Teamwork is not a new idea. But building unified, high-performing teams is an ongoing challenge. Even when we'd like to play well together, sometimes we don't.
Experts say that as many as 60% of teams fail to reach their potential. But when teams do pull together, the benefits can be impressive—for team members and the organizations that rely on them to produce outstanding business results. Improved morale, greater engagement, a shared sense of purpose, and enhanced productivity are just a few of the likely takeaways.
Strong, cohesive teams also can satisfy members' needs to Achieve, to Belong and to Contribute (the ABCs of team unity).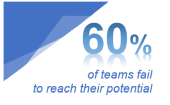 To build unity in their teams, leaders can start by drafting a Team Bill of Rights. The tool clarifies how team members can expect to be treated and defines actions and behaviors that encourage people to feel valued and gain a sense of Belonging.
Download the Team Bill of Rights template below to take advantage of our free tool that guides you in designing your own Team Bill of Rights. You can make an even more proactive start on building unity by involving your employees and working together as a team on the exercise.

And for powerful how-tos on teambuilding in the workplace, choose the micro-learning series MANAGER MOMENTS: How to Build a High-Performing Team. Module 3, How to Build Team Unity, covers the ABCs mentioned in this article, and shows a team going through the process of drafting their own Bill of Rights.
How to Create Your Team Bill of Rights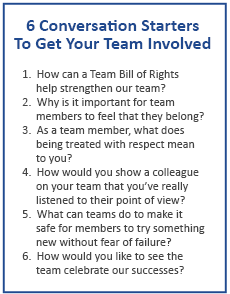 Move your team closer to working as a unified group that meets goals, produces top-quality results, and helps propel your organization forward. Your Team Bill of Rights guides group success by providing a framework to help you address the need to Belong.

For team members, a sense of Belonging begins with three basic rights: to be treated with respect, to be heard, and to feel safe trying ideas even if they fail.
Use the outline below to create your own Team Bill of Rights. We've suggested a couple of options in each area to get you started. Change wording as needed to reflect the principles and behaviors that promote a feeling of belonging. Print our 6 Conversation Starters and use the questions to help engage your team and include their ideas.
Regularly revisit your Bill of Rights to reinforce your commitments, and to make it a living document that grows and changes with your team and needs. Don't forget to build in measures that help track your success and identify areas that need work or revision.
Your Team Bill of Rights
Our team affirms the value of every member, and we apply these principles and actions to create a sense of Belonging:
Respect – The right to be treated with respect.
Team members value the experience, knowledge and perspective each person brings to the team.

All team members are included in decisions that impact the team.

Add your ideas here
Add your ideas here
Add your ideas here
Communication – The right to be heard.
Team members listen to each other

Team members feel comfortable sharing their opinions

Add your ideas here
Add your ideas here
Add your ideas here
A Safe Environment - The right to try, even if we fail.
Team members are rewarded for trying, whether an effort is successful or not

All team-member contributions are acknowledged

Add your ideas here
Add your ideas here
Add your ideas here
Statistic: Parisi-Carew, E. (2015). 8 Reasons Why Teams Fail. Retrieved from: https://leadchangegroup.com/8-reasons-why-teams-fail/