 Workplace bullying is a serious organizational problem. But managers and employees don't always see the behaviors they employ as bullying.
Sometimes the behaviors managers characterize as strong leadership and the behaviors employees think of as strong team work, are power and control tactics that can bring down a team, department, or company.
Creating a culture of respect that is free of harassment and bullying--where diverse teams can flourish--begins with an internal spotlight. This free tool can help reveal behaviors that may have the potential to be seen as bullying.
Keep in mind this self-assessment is only a quick snapshot, but we recommend being both honest and open-minded. A little thought about your responses may reveal things you didn't see in yourself. The first step toward change is self-awareness. Kudos to you for taking the first step!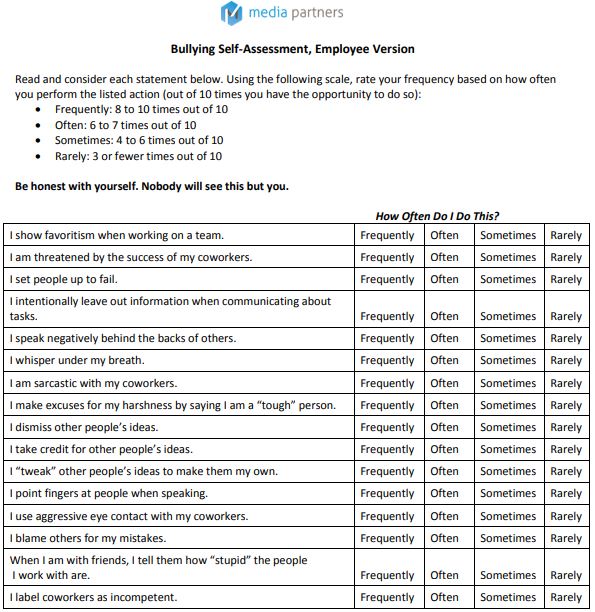 When you download the pdf, you will receive both the Manager and Employee versions of the assessment.
---
Awareness of bullying is one of the steps to creating a respectful workplace, and one of the contributors to conflict in the workplace that can lead futher into more serious forms of disharmony.
For proven training on this topic, we recommend our 9-time award-winning program, How Was Your Day? Getting Real about Bias, Inclusion, Harassment and Bullying.