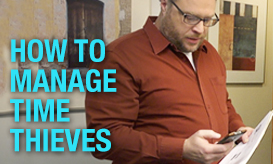 5 minutes. That's the average time it takes to handle a single interruption.
Whether it's a high priority email that just slid into your inbox or a text from your mother-in-law, managers are constantly bombarded with interruptions. In the moment, it's easy to say, "Let me handle this real quick."
But if the average worker faces 50-60 interruptions a day, suddenly more than 4 hours of your day are spent "handling [those interruptions] real quick."




Looks like we've got a Time Thief on our hands.
In this video clip, we show how managers can reclaim their day from those pesky time thieves:


Scene from MANAGER MOMENTS: How to Excel in Tricky Situations for preview only; not to be used for training.

---
For more managerial insights, watch the full-length preview:
Manager Moments: How to Excel in Tricky Situations – Designed to deliver short blasts of practical wisdom to busy professionals on everyday management challenges.