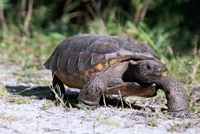 Turtles and tortoises are virtually immobile so long as they're retracted in their shells. And, unless they feel safe to do so, they won't extend their extremities at all. Sound familiar?
Employees contribute ideas in all sorts of ways. Some share easily and on a whim, while others need a bit more time to warm up and come out of their shells. This 55-second clip explains why it's important to foster a work environment where employees feel comfortable sharing their ideas and taking risks. After all, innovation sparks brightest amidst collaboration.
Clip provided for PREVIEW ONLY, may not be used for training.
---
Here are a few more tips on how leaders can make it safe for employees to share:
Nix the Snap Judgements


Avoid the tendency to make snap judgments about an employee's idea.
Brainstorm


Initiate fun brainstorming activities with your team!
Check Your Ego


Manage your ego to carefully consider the inputs and suggestions of others.
Get Outside YOUR Shell


For fresh perspective, tap information and resources you don't usually read or consult.
Affirm, Affirm, Affirm


Recognize that you are much more creative than you think and convey this same message to your employees.
Be the Change


Be an example to your team in demonstrating out-of-the-box thinking.

For more leadership gems, see LEAD NOW!.  LEAD NOW! is a complete leadership development system for leaders at all levels. Through a mini-video library and accompanying materials, it provides instruction and insights on 21 leadership dimensions in 4 quadrants: Creating Purpose, Delivering Excellence, Developing Self & Others, and Leading Change.  eLearning and facilitator-led training options available.