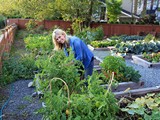 For those who have spent time trying to get a flower to bloom, you know that gardening is a lot like retaining good employees.
For those who aren't gardeners, let me explain. Here are 10 ways gardening is like employee retention.
Fertilizer. Great employees need regular fertilizing (aka training and education) to stimulate their growth.
Gardener. Employees need the support from their managers.
Light. No employee likes to be kept in the dark.
Water. Water refreshes plants and keeps them hydrated. Tasks and projects can become repetitive and it's up to the manager to find refreshing challenges.
No two alike. Each flower is different, and so is each employee. It's important to treat each as a person first, then an employee.
Weeding. Gardeners constantly check on their plants, to weed and make sure all is well. Managers need to regularly check in with their employees.
Good Soil. Like plants, employees have an easier time flourishing if placed in the right environment.
Protection from the Elements. Managers should have their employees' backs.
Ideal Temperature. Plants wilt if temperatures get too high. And employees and production wilt in a workplace full of stress and anxiety.
Oxygen. Employees need time to breath. Getting some air can range from taking a run at lunch to vacation days.
Even if I haven't convinced you that gardening and employee retention are similar, everyone can agree that keeping great employees is key to a successful business.
The video Keeping the Good Ones demonstrates various ways managers can connect with their team and keep those vital individuals. And, these steps are simple and don't cost the company a dime.
Which leads me to the bonus, the 11th reason gardening is like employee retention.
11. Harvest: Manage your employees wisely and you'll be rewarded with a bountiful harvest.
---
Diane Mettler has been a manager for nearly 20 years. She's also a freelance writer and editor—with hundreds of her articles published in a variety of magazines—and teaches writing at the University of Washington.