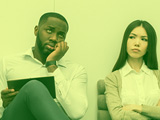 Tips for Managing Millennials
The bad news first: according to a 2016 Gallup study, a whopping 71% of millennials are either "not engaged" or "actively disengaged" at work. That means they have one foot out the door. To be fair, however, the majority of other workers, (68% Gen X, 67% Baby Boomer, and 55% Traditionalist) are also not engaged at work. That said, 33% of workers are millennials and that number is going to climb as baby boomers retire.
According to a Pew Research Center analysis of U.S. Labor Force data, millennials now outnumber each of the other generations of employees in the workforce. And, companies are taking a hard look at what to do to retain their brightest millennials. A ping pong table in the break room is a fun perk, but it does nothing to engage them. Communication skills training can help.
What Can a Manager Do With Millennials?
So, what can a manager do to engage their millennial employees? For all employees, opportunities to learn and grow top the list. But this issue is more important for millennials than Gen Xers or Baby Boomers. According to an Opinium Research online survey, millennials desire knowledge, feedback, and encouragement, and they expect continuous learning on the job.
A manager who provides personal development and a focus on learning has a retention edge. According to the survey, millennials say a commitment to their personal learning and development is more important that flexible work hours and cash bonuses. One in three, or 35% of the millennials surveyed, consider quality training and development programs a top company benefit.
Six Continuous Learning Options
What can you do to engage your millennials and provide them with the continuous learning they desire? For starters, provide:
1. Interesting and inspiring content, especially video training. Millennials grew up with computers and the Internet. They prefer YouTube to TV. And, video views on social media have become a mainstay of their daily diet.
What does that mean for learning? Hubspot conducted a survey, and asked the question: "When it comes to content, what do you closely pay attention to and what are you less attentive to (i.e. skim)."  Video leads the list with 55% saying they pay close attention to video content.
The connection is clear. Offer inspiring video content to drive learning and you'll meet millennials where they are. Even better, make engaging and inspiring training videos accessible on any device and millennials will tap in. Companies should also consider video-based microlearning. Not surprising, millennials, who grew up watching YouTube videos, find short video-based content attractive.
2. Blended learning on steroids. The Opinium Research also showed that traditional blended learning (eLearning and classroom training) doesn't fully quench millennials' desire for knowledge. And, due to millennials' shorter attention spans, traditional classroom training misses the mark.
The best training for millennials mixes delivery formats to maintain learner interest and provide continuous learning. Millennials benefit from a mix of coaching, rotational assignments, informal group learning (lunch and learns), self-directed study (eLearning, microlearning, on-the-job, and peer-to-peer collaboration), and classroom training.
3. Relevance. Malcolm Knowles' principles of andragogy speak of the importance of making sure training is relevant to the adult learner. When training millennials, it is critical. According to a usa businessreview article, "Top Tips for Training the Millennial Workforce," content should quickly connect what they are learning to their jobs, the company, and their lives (or they will fast-forward, skip, or tune out). Millennials are accustomed to finding immediate answers to their questions. What they can't get from technology is context. Make sure the training is relevant and helps learners connect the dots.
4. Mentoring. What better way to navigate the great divide between your older, more experienced employees and your youngest workers. The right seasoned employee matched with the right millennial could prove mutually beneficial. According to the Opinium Research, millennials value any opportunity to interact and learn from senior management. Many view mentoring and coaching as a developmental tool that will help develop their potential and fast-track their career. And, reverse mentoring, whereby millennials teach their mentors, offers big payoffs for both parties as well.
5. Feedback. Feedback can be a powerful form of learning. Gone are the days of the once and done performance appraisal. Today's millennials crave regular, honest, constructive feedback to fuel learning and growth. Gallup found that the more conversations managers have with their employees, the more engaged their employees become.
6. Coaching. While managers generally recognize the value of coaching, not all managers coach on a regular basis. Many coach as needed when a problem arises, or they coach when they see employee potential. The idea of regular coaching and feedback for every employee is often not common practice. However, like feedback, millennials see coaching as part of their manager's job and they expect it.
While the focus of this article is about engaging millennials, they are not unique in their desire to be engaged at work. It is important to note that employees of any generation can benefit from training and development, inspiring and relevant content, mentoring, feedback, and coaching. Employees of all ages want to know that their managers care about what they do, and they want to know that what they do matters. Millennials, however, are vocalizing their expectations. And, managers need to listen. 


---
Michele Eby works for Media Partners as an instructional designer. She has worked in the training and development field for over 20 years.