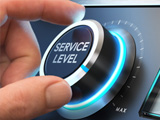 Improving Customer Service in Government and Education
When they hear the term "customer service," most people think of customer care in a business or retail setting. But, everyone has customers - whether internal or external - in every industry --  even government and education. In these industries, even though an employee might not be selling anything to their guest, the same rules of customer service and guest satisfaction should apply. Customer service training videos can teach the service skills and steps to help education and government team members achieve service greatness.
Treat Customers Like Guests
The first and most important principle of customer care is to treat customers as if they are guests in your home, according to The Guest, one of the most popular customer service training videos.

We all have an idea of how to treat guests in our home, so why not extend the same welcoming behaviors to "guests at work"? These behaviors include things like: greet them, take care of their needs, call them by name and thank them. Whether a member of the public is visiting or calling a government agency, or a student is visiting an administrative office needing assistance, an employee's role is to make that "customer" feel welcome, be courteous, and show that they appreciate the customer's time.

Own the Experience
Another principle of customer care that is important for education and government employees is to "own the experience." This means taking responsibility for the customer's experience with your organization. It goes a step beyond just making them feel welcome to actually providing competent, professional help.

Customer service training programs like Give 'em the Pickle and Fill the Glass will teach team members to "own the experience" by giving their undivided attention to each guest, and really listening to what customers are saying. Owning the experience also includes looking for ways to go beyond what is expected and surpassing customer expectations.
 
In addition to these two tenets of good customer service skills training, help employees achieve further success at work with other education and government customer service videos.