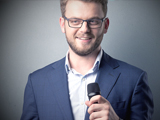 Effective ways to engage trainees 
Trainers, managers and consultants often spend hours or days preparing to deliver training to employees to teach them important new skills, behaviors or organizational lessons/mandates. But all that preparation might be wasted without properly setting the stage for the training with a great meeting opener. Using training content, like meeting openers, is an enormously effective way to quickly engage trainees emotionally and open their minds to learning.

Meeting Opener
Meeting openers are a special category of business training videos: they are shorter than a typical training video — usually only 2-10 minutes in length — and rather than teach a business skill, they are used to inspire, motivate action, provoke thought, or set the stage for the rest of the training session.
The way a meeting begins has a big impact on the tone of the discussion and the attitudes of the participants throughout the session or meeting. If the very first thing said (or watched) during a meeting is positive, people are more likely to listen better, be constructive with their comments, and reach consensus during decision-making. On the other hand, if the first thing said during a meeting is negative or critical, peoples' moods for the rest of the session become more hostile and argumentative. A meeting opener enhances how the facilitator communicates the intent of the session.
Opening with a Video

One great way to start a training session or meeting with positivity is by playing a meeting opener video as attendees enter the room, or as soon as the meeting begins. Many meeting openers feature inspiring words, quotations or lessons on picturesque backgrounds, set to motivational music. These business training videos are best for setting an upbeat tone and helping viewers feel pumped up and motivated for a learning session or meeting.
A short, inspirational employee training video we recommend to have playing as people enter the room: Is Good Enough?,
Story-based Opener

Some meeting openers are more story-based. They use real-life stories to engage audiences and encourage discussion or action. These can be especially powerful for beginning a session, as attendees become wrapped up in, and motivated by, the true stories of average people like them. Stories present information on a level that is hard to reach with mere facts and statistics. The right story told at the right time gets people to feel a certain way and inspires them to be more engaged at work, or take a specific action.
Here is an amazing story-based meeting openers we recommend:  Everest
Topical Opener

Often, when selecting a meeting opener for your training session, you'll want to choose one that is relevant to the overall topic of your training. Meeting openers that cover a specific training topic provide a targeted message to attendees, preparing their minds for a message about a single thing, like Leadership or Diversity. This begins their meeting with a focused message and can spark great discussion later in the session.
No matter the format of the meeting opener, nor the topic of your training or meeting, a great meeting opener can "make" your training more positive, fun, inspirational and productive.