Extensive media coverage, lawsuits, accusations of inappropriate behavior against high-profile individuals, and the emergence of the 'me too.' Movement have helped elevate the visibility of sexual harassment in the workplace. Greater public attention, along with more vocal calls for accountability are positive steps in the right direction.
However, the American Psychological Association (APA) points out that many organizations still fail to address the issue, adding that inaction has "contributed to hostile work environments not only for victims of sexual harassment but also for other employees who are merely bystanders."
Commenting on the "why" underlying the ongoing problem of sexual harassment in workplace, the APA quotes psychologist and sexual harassment and workplace trauma specialist C. Brady Wilson, PhD: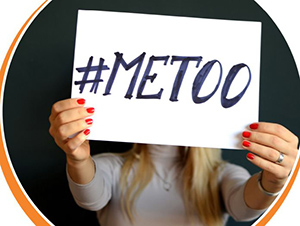 There is a pattern to close ranks, admit nothing and blame the victim. Some companies hate the EEOC and hate their own human resources department. They just see sexual harassment complaints as something that slows them down and as an unnecessary expense. There is such a reluctance to cooperate and participate.
It is also appropriate to note that the EEOC first defined sexual harassment in 1980. Although 40-plus years have passed, workplace harassment has not been eradicated and much work remains to be done.
A Better Future Begins with Laws
Legislation offers a key strategy to address workplace sexual harassment, and some states have followed in the trailblazing footsteps of California by passing laws to strengthen support for victims and to require sexual harassment prevention training in organizations. Additional states are expected to follow in the months and years to come.
Pulling the legislation lever is a much-needed tactic, and such actions further advance conversations about harassment and acknowledge lingering problems. Laws also establish a basis for accountability when sexual harassment occurs and provide an authoritative push for widespread prevention training.
But multiple sources affirm that compliance as the core driver of sexual harassment prevention training doesn't produce effective results, and often worsens the problem. Consequently, it's clear that laws are only part of the solution to achieving a future free of workplace sexual harassment.
Respectful Cultures Lay the Foundation
Changing the kind of organizational perceptions of sexual harassment prevention called out by the APA requires a seismic shift in corporate culture—in essence, a holistic approach that includes sexual harassment prevention, along with other critical elements, to create a workplace atmosphere where safety, inclusion, and regard for others are paramount.
In short, the foundation for a workplace free of sexual harassment, bullying, microaggressions, and other negative behaviors is an unshakable culture of respect.
HR and L&D functions are ideally qualified and suited to be the change agents that create and nurture positive, productive cultures. That kind of transformation doesn't happen overnight. Rather, it is part of an organization's evolution, and progress begins with a focus on continuous training. That includes sexual harassment prevention training, of course. But establishing and growing a culture of respect calls for broader educational initiatives—comprehensive training in such topics as:
Diversity, equity, inclusion and belonging

Overcoming bias, harassment, and hostile work environments

Resolving conflict, and preventing workplace violence

Leadership and management skills that build and sustain positive culture change

Communication skills, accountability, and other behaviors that characterize safe, respectful workplaces
The Critical Differentiator: Effective—and Ongoing—Sexual Harassment Prevention Training
When a culture of respect is established and flourishing, organizations can add the final, crucial element in eliminating sexual harassment in its workplaces—effective, ongoing sexual harassment prevention training.
Experts on sexual harassment agree that the most effectual training turns bystanders into upstanders who watch out for and support their co-workers. In an article for the American Sociological Association, University of Georgia researcher Justine E. Tinkler explains that the approach works "because bystander intervention training encourages men and women bystanders to change their behavior, emphasizes accountability (like the threat of punishment does), and focuses on norm change [i.e., affecting organizational culture] through behavioral change (rather than simply paying lip service)."
Accomplishing that behavior change also demands sexual harassment prevention training that is engaging and that includes separate programming that specifically targets managers. Further, training must be ongoing—it must regul
arly update and refresh initial learning using the latest techniques in learning design and delivery. Follow up should ensure that harassment prevention skills and knowledge are applied. That process makes it clear that the expertise and ownership of HR and L&D are critical to achieving lasting effectiveness in sexual harassment prevention training, now and going forward.
Online HR advisory resource HR Morning reinforces the marriage of culture and effective training as keys to the future of sexual harassment prevention training. The site calls on HR and learning professionals to lead the way by "driving a shift in the attitudes, behaviors, and values that contribute to an environment that allows harassment to occur." That means increasing "focus on culture, not compliance" and making "training more engaging, relevant, and, ultimately, more effective."
---
A Catalyst for Lasting Change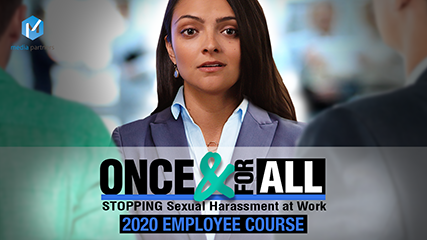 Media Partners' 7-time award winning program Once & For All: Stopping Sexual Harassment at Work meets all the criteria for effective, behavior changing sexual harassment training. Plus, its compliance guarantee makes it worry-free. See a full preview of the Employee and Manager eLearning courses here.



Legally vetted, with 200% compliance guarantee

Approved by one of the largest law firms in the US, the program is compliant with state mandates and Title VII protection. We'll cover up to 200% of your annual license fee should you receive a government-imposed fine or penalty for non-compliant training material.




Award-winning

Holding 7 awards for cinematic and educational excellence, the program unpacks complex legal concepts through relatable scenarios and practical "how to" instruction.




Long-term focused

• Continuously updated to reflect new or changing legislation

• Abridged Course and free resources for refresher training