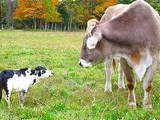 A while back, my husband and I took a trip up to Leavenworth; a picturesque Bavarian village nestled in Washington's Cascade Mountains. Though we both remember the beautiful hikes, the funky shops, and tasting locally crafted wine at dinner, the experience which most stays with me is popping into an elaborate fruit stand and feeding a miniature cow.
This little guy had wiry hair, smelled a bit and left more drool in my hand than I had grain to feed him, but it didn't matter. I popped into a fresh fruit stand and received more than I could have imagined—an unforgettable experience with an adorable, knee-high cow.
Give 'Em the Pickle
The experience reminded me of Bob Farrell's famous customer service expression "Give 'em the Pickle!" Founder of Farrell's Ice Cream Parlour and Restaurant, Bob is a dynamic and enthusiastic man who has spoken to numerous businesses (and offers videos) about the added value in giving customers and clients the pickle—that special something extra that makes customers happy. Who knew, in my case, it would turn out to be a little cow.
Many businesses already know the power of the pickle--that creativity in offering customers a little extra that makes for a one-of-a-kind customer journey--can deliver big rewards. The most successful companies also realize that the pickle can often times take the form of a new or an unforgettable experience.
Give 'Em an Experience
People love new experiences. In fact, behavioral science research shows spending money on new experiences yields more happiness than spending it on new products. Experiences not only provide great memories and stories, but they can also be unique, specific to each individual.
Of course, not every experience has to be odd or "out there" to be memorable. But, since our trip to Leavenworth, I've been looking for just that—businesses that offered people something they've never done before—the weirder the better.
In 2014 I got the chance to:
Ride an electric bull at a local pumpkin patch
Join a free yodeling class
Kiss a camel at a zoo
Operate a remote control forklift at an equipment launch, and
Drive a Tesla at a renewable energy tour
Have you had a fabulously weird work or business experience that stands out? Did your employer hold the office meeting in a museum? Did your restaurant offer free octopus on Halloween?
Please share. I'd love to hear about it.
---
Diane Mettler has been a manager for nearly 20 years. She's also a freelance writer and editor—with hundreds of her articles published in a variety of magazines—and teaches writing at the University of Washington.