The COVID-19 pandemic brought concerns about health to the forefront for everyone. Business leaders responded quickly by sending their employees home to work. For essential workers whose jobs required their continued presence in factories, plants, or other facilities, safety measures were put in place to afford as much protection as possible.
Employers hurried to prioritize the mental health of their workforces, too, instituting new practices to keep people connected and offer emotional support in the suddenly virtual work world.
Virus variants—Delta and others—are keeping health threats top of mind for organizational and talent leaders everywhere, even as some companies are asking employees who have worked remotely for a year or more to think of returning (at least some of the time) to corporate workplaces.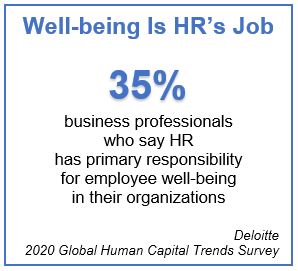 Whatever work model, or models, (onsite, remote, or a hybrid combination of the two) business leaders choose as they look toward a still-evolving new normal, it is clear that the regard shown for workers' well-being will be a crucial aspect of the employee experience—and a vital element in companies' ability to attract, engage, and retain top talent. That makes a clear grasp of workforce well-being a necessity for HR and other talent professionals.
Why HR? Research from Deloitte confirms that "HR is most often cited as the party responsible for well-being" in organizations. In fact, 35% of respondents to the firm's 2020 Global Human Capital Trends Survey said HR had primary responsibility for well-being in their organizations, trailed by front-line managers (22%), functional and department leads (18%), the C-suite (14%), and individual employees (11%).
Has Your Organization Made the Shift from Wellness to Well-being?
Traditionally, businesses have focused on the idea of employee wellness, providing programs and benefits that support physical and mental health to build workforces of stronger, healthier employees who are more likely to show up for work consistently, call in sick less frequently, and be able to perform productively and contribute at their best levels.
True holistic, or whole-person, well-being includes physical and mental health, but organizations add other elements to the mix to address the broader aspects of human life that factor into overall well-being. Those elements often vary from one company to the next.
Perhaps the best-known definition comes from Gallup, long a leader in researching and writing about holistic well-being. It's five-element model includes:
Career well-being: Liking one's daily work
Social well-being: Having meaningful relationships with others
Financial well-being: Managing money effectively
Physical well-being: Having energy to get things done
Community well-being: Liking where one lives
Including similar components, though using different verbiage, the Centers for Disease Control and Prevention expands the definition to encompass:
Physical

well-being

Economic

well-being

Social

well-being

Development and activity

Emotional

well-being

Psychological

well-being

Life satisfaction

Domain specific satisfaction

Engaging activities and work
Organizations may include some or all of the aspects cited by Gallup, the CDC, or others. They may use different words to describe the ideas, or they may forge definitions independent of those. But most agree that whole-person well-being generally involves physical and mental health; and social, community, career, and financial well-being. HR and talent leaders also agree that a well workforce pays off for businesses.
4 Basics HR Should Know about Workforce Well-being
Because it typically falls to HR or a closely allied talent function to oversee organizational well-being programs and benefits, professionals in those departments need to ramp up their understanding of key concepts. Start with these four basic ideas:
Define what well-being means in your organization. Most companies already provide benefits or programs to support physical and mental well-being. Consider which elements of broader holistic well-being might best serve the unique objectives of your organization. Survey your workforce to assess employee needs and preferences, too. If resources pose an issue, begin expansion into holistic well-being slowly with low- or no-cost options. For example: create pathways for job advancement or start a peer-coaching program in your organization to better support career well-being.
Understand the business case for well-being. Research has repeatedly demonstrated strong links between workforce well-being and better results for businesses. Data from a 2020 study confirmed that successful well-being programs can yield greater talent retention, customer satisfaction, lower benefits costs, higher worker engagement, stronger workplace cultures, better overall productivity, and more.
Get people talking about well-being. Conversations about well-being can be challenging, even uncomfortable. Getting employees and leaders talking about well-being begins with training in what well-being is (clearly communicating your organization's definition), what your firm's commitment to workforce well-being involves, and how to recognize and discuss well-being issues with others. Especially when it comes to mental well-being, education and understanding are vital keys to early intervention and support. Be sure, too, that employees and leaders know what benefits and resources your organization makes available (EAP programs, access to telemedicine or telecounseling services, etc.).
Embed well-being in your people practices. Building successful well-being programs and a company culture that supports well-being requires talent practices aligned with those goals. Audit your HR practices and include well-being wherever possible. For example:

add well-being check-ins to regularly scheduled manager/employee performance conversations; provide managers with the training necessary to pursue topics they may have previously felt were too personal in nature. For example, "I hear you saying that you haven't been sleeping well lately…our organization's benefits plan includes many options that can help in this area. Someone in HR could walk you through them if you like."

ensure that training and development content provides education on well-being; many existing initiatives could be expanded to cover this. For example, respectful workplace training should always include options for those who've been negatively impacted by harassment, bullying, or discrimination and who may need safe ways to work through what they've experienced.

leverage recognition programs to highlight employees' well-being achievements. For example: With their permission and participation, feature an article on your company intranet (or newsletter) showcasing an employee who trained and ran in a marathon; publicize the efforts of employees or teams who participated in volunteer activities to benefit community causes; or encourage people managers and team leaders to include opportunities for employees to share well-being accomplishments/goals during meetings, etc.

Shifting from wellness to a focus on holistic well-being in your organization will take time. But leading the way offers HR great opportunities to drive positive and powerful changes for employees and organizations, alike.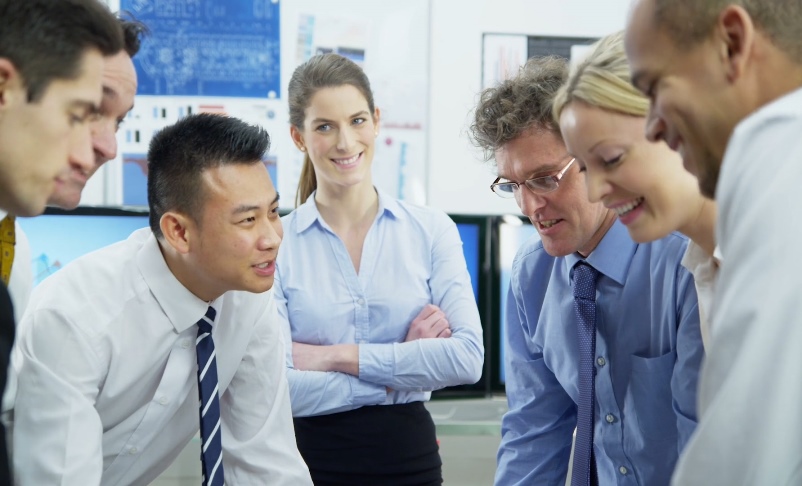 For help building a happier, healthier workplace, see our training solutions in these topic areas: