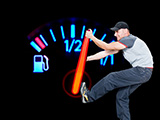 I admit it. I'm green - in the sense I believe in being socially responsible, not the color of my skin. And I've been known to stop doing business with companies that are ethically challenged.
Companies today know that there are a lot of us out there. We like to feel good about the products we're purchasing and that we're trying to have a lighter footprint on the planet we're trodding upon while treating people decently.
However, sometimes companiesstretch the truth about being socially responsible. For example, one person at a company that I felt was morally flexible told me, "We're socially responsible. Look here. We have a mobile app. That saves on paper." He didn't win me over. 
You May Have Problems if . . .
Jeff Foxworthy has a standup bit where he pokes fun at rednecks. As in "You might be a redneck if you cut your grass and found your car." In that vein, "Your company may be socially irresponsible if it . . .
 . . . has yet to install recycling bins in the office.
 . . . thinks CSR stands for Can't Stand Recycling.
 . . . believes CSR is just a political thing
 . . . won't be bothered by a bunch of environmental nut jobs.
 . . . sees it as more money wasted that could go to shareholders.
 . . . believes it's too small to make a difference.
 . . . celebrates CSR once a year with a big party and a cake.
Steps to CSR
Today many people judge a company not just by their profit margins but also by how compassionate they are and how much they give back to their community and the planet.
Cayenne Consulting offers easy steps to effective CSR, even for the modestly sized company. Here are a few.
1. Define your messaging. Don't strike blindly at different goals, such as preserving rainforests one quarter and then investing in a community project the next. Come up with causes that resonate with your business culture, research the kind of support they need, then pick one and stick with it.
2. Involve your customers. If you haven't picked a cause yet, come up with a list of alternativesand ask your website visitors and Facebook fans to vote on which one they would like to see you support. 
3. Use social media. Don't just tell your customers what you're doing; solicit their ideas, experiences and concerns to get them invested in your projects. Make sure you use multiple digital platforms – such as blogs, Facebook, Twitter, and a YouTube channel – to reach people with different media preferences.
To read the full article, just click here.
If you're a company that supports CSR and leveraging it to your benefit, I applaud you. For the person who told me that the company app was the extent of its CSR efforts, "Step it up man!"
---
Diane Mettler has been a manager for nearly 20 years. She's also a freelance writer and editor--with hundreds of her articles published in a variety of magazines—and teaches writing at the University of Washington.