How to protect yourself from sexual harassment charges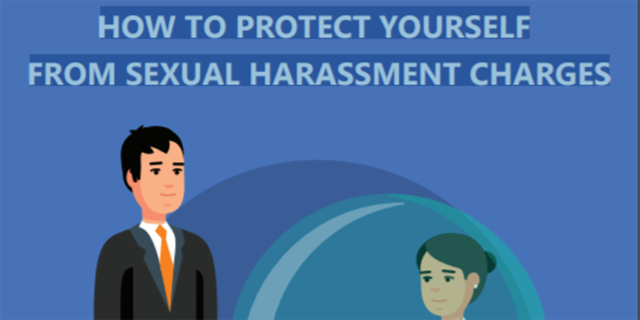 Sexual harassment in the workplace is a complex issue. A complaint of inappropriate conduct against a manager—whether the complaint is legitimate or not, and regardless of whether the conduct rises to the level of illegal sexual harassment or not—has a significant impact on all involved. And, the manager's job and reputation are at stake.
This infographic provides tips for managers to help protect themselves from allegations of inappropriate conduct or sexual harassment. It reveals 6 indispensable tips for using common sense and extra caution when interacting with employees and colleagues.

We hope you find this information useful and encourage you to share the infographic with others. You may also be interested in the sexual harassment prevention resources found in our Sexual Harassment Prevention Toolkit.
---
TRAINING RECOMMENDATION
In addition to removing themselves from situations that might lead to sexual harassment charges, managers must also protect their employees. Once & For All: Stopping Sexual Harassment at Work, Manager Version shows managers how to build a culture where sexual harassment is not tolerated and people are empowered to stand up for themselves and others. Available in many state-specific versions.