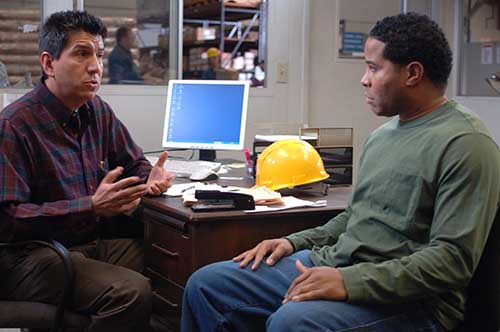 Safety courses available through Media Partners are listed on this page. Categories include:
General Safety/Well-Being
Industrial Safety
Construction Safety
Transportation and Warehouse Safety
Office Safety
Healthcare
Laboratory
Food Industry
HAZWOPER
Languages: English
What's included:
All titles are provided in eLearning format only. Please contact us for pricing information or to request a preview.
Product Description
Active Shooter: Surviving an Attack
Back Safety
Bullying and Other Disruptive Behavior for Employees
Bullying and Other Disruptive Behavior for Managers & Supervisors
Coronavirus: Guarding Against COVID-19
Dealing with Drug and Alcohol Abuse for Employees
Dealing with Drug and Alcohol Abuse for Managers & Supervisors
Emergency Planning
Evacuation Procedures
Fighting Fatigue in the Workplace
Fitness and Wellness
Hazard Communication in Auto Service Environments
Hazard Communication in Cleaning and Maintenance Environments
Hazard Communication in Hospitality Environments
Returning to Work During the Coronavirus Pandemic - Employees
Returning to Work During the Coronavirus Pandemic - Managers & Supervisors
Handling A Sexual Harassment Investigation
Preventing Sexual and Other Forms of Harassment for CA Employees
Preventing Sexual Harassment for Employees
Preventing Sexual Harassment for Managers & Supervisors
Preventing Sexual Harassment for Supervisors in California
Slips, Trips and Falls
Unconscious Bias
Walking and Working Surfaces
Winter Safety
Working From Home
Preventing Workplace Discrimination for Employees
Preventing Workplace Discrimination for Managers & Supervisors
Diversity in the Workplace for Employees
Diversity in the Workplace for Managers and Supervisors
Workplace Security
Workplace Stress
Workplace Violence
Accident Investigation
Aerial Lifts in Industrial & Construction Environments:
• Types of Lifts & Their Hazards
• Working With and Around a Lift
Arc Flash
Asbestos Awareness
Back Safety in Industrial Environments
Bloodborne Pathogens in Commercial and Industrial Facilities
Compressed Gas Cylinders
Confined Space Entry
Conflict Resolution in Industrial Facilities
Dealing With Hazardous Spills
Electrical Safety
Eye Safety
Fall Protection in Industrial and Construction Environments
First Aid
Forklift and Powered Industrial Truck Safety
Forklift Safety Industrial Counterbalance Lift Trucks
GHS Container Labels
GHS Safety Data Sheets
Hand and Power Tool Safety
Hand, Wrist and Finger Safety
Hazard Communication in Industrial Environments
Hazard Recognition
Hazardous Materials Labels
Hearing Conservation and Safety
Heat Stress
Hot Work Safety and the Permitting Process
I2P2: Injury and Illness Prevention Programs
Indoor Air Quality
Industrial Ergonomics
Industrial Fire Prevention
ntroduction to GHS (The Globally Harmonized System)
Introduction to Industrial Hygiene
Introduction to OSHA
Ladder Safety
Lead Exposure in General Industry
Loading Dock Safety
Lock-Out/Tag-Out
Machine Guard Safety
Manual Pallet Jack Safety
Materials Handling Safety
Motorized Pallet Truck Safety
OSHA Recordkeeping for Employees
OSHA Recordkeeping for Managers and Supervisors
Personal Protective Equipment (PPE)
Respiratory Protection and Safety
Safe Lifting
Safety Audits
Safety Awareness for New Employees
Safety Housekeeping and Accident Prevention
Safety Orientation
Safety Showers and Eye Washes
Scissor Lifts in Industrial and Construction Environments
Silica Safety in Industrial and Construction Environments
Slips, Trips and Falls in Industrial Environments
Using Fire Extinguishers
Walking and Working Surfaces in Industrial Environments
Warehouse Safety
Welding Safety
Workplace Harassment in Industrial Facilities
Workplace Violence in Industrial Environments
Back Safety in Construction Environments
Caught-In/Between Hazards in Construction Environments
Crane Safety in Industrial and Construction Environments
Dealing with Drug and Alcohol Abuse in Construction Environments:
• For Employees
• For Managers & Supervisors
Electrocution Hazards Part I Worksite Safety
Electrocution Hazards Part II Employer Responsibilities
Eye Safety in Construction Environments
First Aid in Construction Environments
GHS Container Labels in Construction Environments
GHS Safety Data Sheets in Construction Environments
Hand and Power Tool Safety in Construction Environments
Hand, Wrist and Finger Safety in Construction Environments
Hazard Communication in Construction Environments
Heat Stress in Construction Environments
Introduction to GHS (The Globally Harmonized System) for Construction
Ladder Safety in Construction Environments
Lead Exposure in Construction EnvironmentsPersonal Protective Equipment in Construction Environments
Rigging Safety in Industrial and Construction Environments
Safe Lifting in Construction Environments
Safety Orientation in Construction Environments
Slips, Trips and Falls in Construction Environments
Struck-By Hazards in Construction Environments
Supported Scaffolding Safety in Industrial and Construction Environments
Suspended Scaffolding Safety
Suspended Scaffolding Safety in Construction Environments
Trenching and Shoring Safety in Construction Environments
Walking and Working Surfaces in Construction Environments
Work Zone Safety
Workplace Violence in Construction Environments
DOT "Reasonable Suspicion" Testing for Managers and Supervisors Part II
DOT "Reasonable Suspicion" Testing Overview for Managers and Supervisors
DOT Cargo Securement
DOT Commercial Motor Vehicle Inspections
DOT HAZMAT General Awareness
DOT HAZMAT Safety Training
DOT HAZMAT Security Awareness
DOT Hours of Service
DOT In-Depth HAZMAT Security Training
Driving Defensively
Driving Defensively for CDL/Large Vehicle Drivers:
• Handling Adverse Conditions
• The Basics
Driving Safety
Driving Safety The Basics
Drug and Alcohol Testing for CDL Drivers
Injury Prevention for CDL Drivers
Slips, Trips and Falls in Transportation & Warehouse Environments
Workplace Violence in Transportation and Warehouse Environments
Walking & Working Surfaces in Transportation & Warehouse Environments
Back Safety in Office Environments
Computer Workstation Safety
Conflict Resolution in the Office
Fire Prevention in the Office
Office Ergonomics
Office Safety
Slips, Trips and Falls in Office Environments
Workplace Harassment in the Office
Workplace Violence in Office Environments
Electrical Safety in the Laboratory
Flammables & Explosives in the Laboratory
GHS Safety Data Sheets in the Laboratory
Handling Compressed Gas Cylinders in the Laboratory
Laboratory Ergonomics
Laboratory Hoods
Orientation to Laboratory Safety
Planning for Laboratory Emergencies
Preventing Contamination in the Laboratory
Safe Handling of Laboratory Glassware
Safety Showers & Eye Washes in the Laboratory
The OSHA Formaldehyde Standard
Bloodborne Pathogens in First Response Environments
Bloodborne Pathogens in Healthcare Facilities
COVID-19 in Healthcare Environments (OSHA's Emergency Temporary Standard)
Fire Prevention in Healthcare Facilities
Hazard Communication in Healthcare Environments
HIPAA Rules and Compliance
Patient Handling Safety
Slips, Trips and Falls in Healthcare Environments
Tuberculosis in the Healthcare Environment
Workplace Violence in Healthcare Environments
Back Safety in Healthcare Environments: for Medical Personnel
Walking and Working Surfaces in Healthcare Environments: for Office and Maintenance Personnel
Back Safety in Healthcare Environments: for Office and Maintenance Personnel
Back Safety in Food Processing and Handling Environments
Food Handling Safety
Good Manufacturing Practices in the Food Industry Part I
Good Manufacturing Practices in the Food Industry Part II
HACCP… Hazard Analysis and Critical Control Points in the Food Industry
Slips, Trips and Falls in Food Processing and Handling Environments
Workplace Violence in Food Processing and Handling Environments
Accidental Release Measures and Spill Cleanup Procedures
Dealing with the Media in Emergency Situations
Decontamination Procedures
Electrical Safety in HAZMAT Envrionments
Exposure Monitoring and Medical Surveillance
Handling Hazardous Materials
HAZMAT Labeling
HAZWOPER Confined Space Entry
HAZWOPER Fire Prevention
HAZWOPER Heat Stress
HAZWOPER Personal Protective Equipment
HAZWOPER Safety Orientation
Introduction to HAZWOPER Retraining
Medical Surveillance Programs
Monitoring Procedures and Equipment
Personal Protective Equipment and Decontamination Procedures
Respiratory Protection and Safety
Safety Data Sheets in HAZWOPER Environments
The Emergency Response Plan
The Site Safety and Health Plan
Understanding Chemical Hazards
Understanding HAZWOPER
Work Practices and Engineering Controls
Product Details
Product Details

| | |
| --- | --- |
| Is Best Seller? | No |
| Program Length | 30-45 min. per course |
| Languages | English |
| Producer | Marcom Group |