What Constitutes Sexual Harassment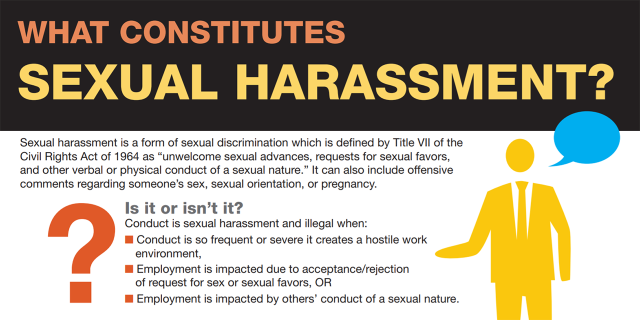 Sexual harassment is often thought of as obvious displays of inappropriate behavior that very clearly crosses boundaries. However, in reality, classifying behavior as illegal, sex-based harassment is much more complex.
To help clear up any blurred lines, we've put together this infographic answering:
What is the legal definition?

What behaviors constitute potential sexual harassment?

By whom, to whom?

What can employees and managers do to help prevent sexual harassment?
To cultivate a safe, respectful work environment, it is paramount to ensure your team is mindful of the policies, procedures, and consequences surrounding issues such as sexual harassment. Whether through company-wide sexual harassment training or an open staff dialogue, sexual harassment must be addressed. Training is essential for both employees and managers who will have to handle any complaints.
We recommend our best-selling training program Once & For All: Stopping Sexual Harassment at Work. The course comes with a compliance guarantee and is available in Employee and Manager versions, as well as state-specific versions.