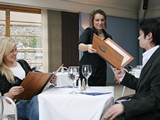 It's rare that I go to a restaurant that provides pagers to accommodate its wait-times. You see I'm just not that patient. It's also been my experience that when customers are waiting, some restaurant staffs take their seated guests for granted.
Not this place though…even with its share of problems.
It was 4 pm Saturday afternoon and the restaurant was filled. People stood in the vestibule and held pagers as they waited upwards of about 20 minutes for a table. The restaurant, which has only been open for about a month, doesn't take advance reservations. But we knew about its call-ahead service, which is why a hostess - armed with menus, activity books, and crayons - seated the seven of us in a large booth as soon as we arrived.
Sean took our drink orders as we looked over the menu. Within minutes, he came back to our table and took our orders, readily agreeing to accommodate my mom's special request. He came back again and brought warm bread. On his third trip and after a reminder, he brought the children's chocolate milk. They were getting restless…
It had been 30 minutes since we gave Sean our order. We had eaten all the bread. The children went through all of their coloring pages, dot-to-dots, mazes, and word searches. We played countless tic-tac-toe games and fielded the "when will our food be here" questions that were starting to fly around the table.
We flagged Sean down. He was still smiling but apologetic. "I'm sorry it's taking so long. We're really busy," he told us. "I just checked on your food though. It will be up shortly."
Thirty-five minutes passed. Then 40. Then 45. Understanding that the staff was new, we were forgiving of the slow service, Sean's inefficiency, and his lack of knowledge about the menu items. But our patience was waning. We were all hungry. And the children were finding it tough to stay in their seats.
Just then the food arrived. Or, I should say some of the food arrived. "The children's food will be ready in a couple of minutes," Sean said as he served our dishes. A collective groan of little voices came up. Uh-oh. Adults who are hungry and impatient are one thing. Children who are hungry and cranky are something else entirely. I didn't want to go there.
We assured our children that they weren't forgotten and we explained that their food would arrive in a few minutes. And it did.
I have to admit my food was excellent. It took an hour, but finally everyone was eating and happy. Everyone, that is, except my mom. She put her fork down.
"What's wrong, Mom?" I asked her.
"It's cold," she said.
That's when Sean showed up to ask us if we needed anything. When my mom explained that her food was cold, he apologized and took it from her. He apologized again when my husband explained that he was given the wrong side dish.
"He's saying sorry a lot," my eldest said. "He has a lot to apologize for," answered my husband. He was losing his patience. Amidst more apologies, Sean brought the correct side dish for my husband, and a steaming entrée for my mom. That's when the restaurant manager stopped at our table.
"I heard things didn't go smoothly for you," he said. "I'd like to apologize and find out what happened so we can work on making things better."
He was sincere. He wanted to learn from the customers' perspective what needed to be improved. "Good for you," I thought.
We told him the basics of our experience: we had been there for an hour and a half; the food was served at different times; a side order was wrong; and one order needed to be returned to the kitchen because it was cold.
As a manager what would you do at this point? As a customer what would you expect this restaurant manager to do?
I thought he might give us a goodwill gesture like comp my mom's dinner, offer us coffee and dessert on the house, send us on our way with a free drink coupon, and invite us to come back again.
He didn't do any of those things. Instead, he apologized again and did something that surprised me. He told us the entire meal was on the house. My mom said, "Oh that is totally unnecessary. We know you're new and still working things out."
What happened next surprised me even more. The restaurant manager said, "It's already done." And, he handed us our check, which showed a full credit and a balance due of $0.00. He also gave us his business card and said, "I'd like you to come back and try us again."
This manager had already taken care of the bill. He made up his mind to credit our entire check because he knew we were dissatisfied. He didn't wait to determine the level of our dissatisfaction. He didn't wait to find out if we were just unhappy or really angry. Will that be his mode of operation every time a customer has a poor experience? Or was it because the restaurant is new and he was concerned about first impressions? It doesn't matter. Saturday night he gained a second visit from us.
We are resolved to return. Not because we received a free meal. We will return because the manager completely exceeded our expectations. We will return because of his determination to take care of us and see to it that we come back. We will return because he proved that he cared. As we left, my husband said, "More businesses should be that committed to taking care of the customer."
What would you have done if you were that restaurant manager? Just how committed are you to taking care of your customers? And what do you do to prove it?
Consider conducting assessments prior to a staff meeting - or better yet, a service meeting - and review them ahead of time. Are there any disconnects between what you believe and what your team members say? Talk about ways you can show customers your commitment to service. What do you currently do well in what areas can you improve?
See The Results!
---
Michele Eby works for Media Partners as a writer and training advisor. She has worked in the training and development field for more than 15 years. Media Partners' customer service training program, Give 'Em the Pickle was a source for this article.