It's Time to Check in and Assess our DE&I Promises
In the turbulent summer of 2020, about nine in 10 organizations pledged to take action against racial inequities, but researchers report that fewer than half (43%) have followed through on their own internal talent goals related to employees from underrepresented groups.
In 2022, many organizations are reaffirming their promises to make positive progress in diversity, equity, and inclusion (DE&I), and new data from Gartner reinforces the importance of doing so: "The frequency with which CEOs talk about issues of equity, fairness and inclusion … has increased 658% since 2018," the firm says in a Harvard Business Review article, adding that fairness and equity in employee experiences "will be the number one priority for HR executives" in the year ahead.
Gartner's trend analysis also concluded that organizations need to take deliberate action to ensure that DE&I outcomes don't worsen within the context of hybrid work models that have some employees performing their jobs onsite in employers' facilities while others work remotely: "Without greater intentionality, underrepresented talent could be excluded from critical conversations, career opportunities and other networks that drive career growth."
Gartner's conclusions underscore the importance of following through on organizational DE&I promises. Along with a shared understanding of terminology that enables frank discussions, training and development are critical components in the battle against bias and unfairness in workplaces. Consequently, it is especially important that training departments, strategies, practices, and materials apply an inclusive approach to learning.
To support training professionals in operationalizing their commitment to diversity, equity, and inclusion, Media Partners offers the following two-minute quiz to highlight actions that strengthen inclusive learning initiatives.
Note: This quiz is not a validated research instrument. Its intent is to present information that helps drive your training team's thinking on inclusive learning.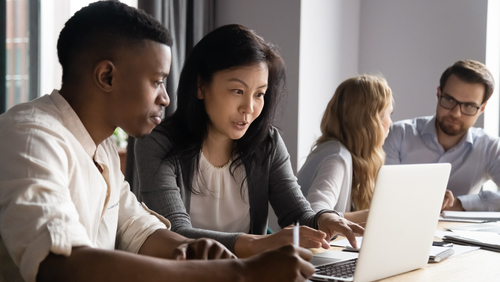 Success Begins with Clear Definitions
Making progress on DE&I goals hinges on the ability for leaders and employees, alike, to engage in meaningful conversations. In turn, those discussions rely on clear definitions of key terms that are communicated and understood organization-wide. Many companies create their own definitions, or use those provided by organizations such as Harvard Business Publishing. Here are the definitions used by Media Partners in its training programs:
Diversity is a mix of backgrounds, cultures, races, genders, economic and social situations, thinking styles, and other dimensions that promote growth in a group.
Equity is the fair, impartial, and respectful treatment of all employees. Equity can be achieved by:

Ensuring equal access to opportunities, advancement, people, and resources
Eliminating barriers that prevent growth or create inequality.

Inclusion is the practice of inviting and valuing all team members' perspectives, contributions, ideas, and opinions. It removes barriers that prevent employees from bringing their whole, authentic selves to work on the organizational level.
A sense of Belonging at work is the security and support employees experience when they are accepted, valued, and respected for who they are.
Another term that organizations clarify for their workers is representation, which refers to having employees who reflect the different ages, races, genders, cultures, and other characteristics of the individuals who make up the broader population.
7 Elements of Inclusive Learning Quick Check Quiz
If you can answer yes to each of the following questions, it's likely that you're already demonstrating how to provide inclusive learning and development for your organization's workforce. If you are, well done! Just remember that inclusion is a dynamic commitment that requires constant vigilance and evolving practices.
If you answer no, check the strategies suggested to see what takeaways you might apply to improve your organization's approach to inclusive training and development.
☑ 1. Does your organization ensure that opportunities for training and development are available to all employee groups?
Suggested strategies: Audit attendance of required and elective training in your firm to ensure that individuals at all organizational levels and in all employee groups are invited to (and actually consume) learning opportunities. Where appropriate, extend training options to other stakeholders (board members, contract workers, etc.). If training must be limited, consider equitable solutions for those not included.
☑ 2. Are you intentionally taking steps to ensure learning is accessible to all in your organization?
Suggested strategies: Offer training at multiple times and locations (including on-demand and online), make training accessible via multiple platforms and devices (desktop/laptop, tablet, phones). Avoid assumptions about employee capabilities – provide instruction on correct use of learning technologies and platforms. Make other training arrangements for employees who lack connectivity or access to required technologies. Also ensure access to learning content for workers based on language fluency and those with challenges in sight, hearing, or other capabilities potentially affecting learning consumption.
☑ 3. Do you select for training programs that are designed to engage all employee groups?
Suggested strategies: Provide content in ways that engage individuals with varied learning preferences (visual, kinesthetic, verbal, and auditory). Also consider measures to ensure that programs engage those who learn more effectively in groups, alone, through experiential activities, and at varying paces. For example, you might use game chips to encourage those who are more reserved to engage by using their chip and to help the more vocal participants be thoughtful about what ideas they wish to share as each time they talk in a group, they lose a chip. Consider this and other small group activities or approaches to encourage psychologically and physically safe environments for participants who need encouragement to share, interact, ask questions, admit challenges in understanding, etc.
☑ 4. Are efforts to market and promote training opportunities inclusive?
Suggested strategies: Review your internal marketing and promotional practices and materials to ensure that they are designed to appeal to and communicate effectively with all employee groups. Pay particular attention to language, imagery, visuals, and distribution channels.
☑ 5. Is your training and development staff representative of your workforce?
Suggested strategies: Inclusion of diverse individuals on teams responsible for designing, choosing, implementing, and/or facilitating organizational training and development is an important element in driving inclusive learning. Partner with organizational diversity departments and professionals, members of employee resource groups, and other internal colleagues to gain diverse perspectives and input when designing or choosing training programs and evaluating training products.
☑ 6. Do you invite feedback from training program graduates?
Suggested strategies: Use surveys or focus groups to ask training program graduates from diverse employee groups for their perspectives on the appropriateness of the program content and design. Make course completion contingent on their anonymous feedback to ensure all participant voices are heard. Be clear on how the information will be used, and share the action steps that will be taken upon receipt of the feedback to encourage participation.
☑ 7. Are periodic self-checks part of your training department's commitment to inclusive learning?
Suggested strategies: Because workforce composition and training needs continuously shift and evolve, schedule regular reviews (and updates as needed) of training and development strategies, goals, programs, content, promotion, and delivery. Specifically include bias audits in that review process.
Media Partners offers expert support and top-quality training content designed to engage the broadest possible ranges of employees, enabling your organization to deliver on the promise of inclusive learning opportunities for all. Completed your check and ready to take action? We're ready to help!!! Click here to learn how we can help you with your inclusive learning journey.
---
Media Partners Top Training Resources