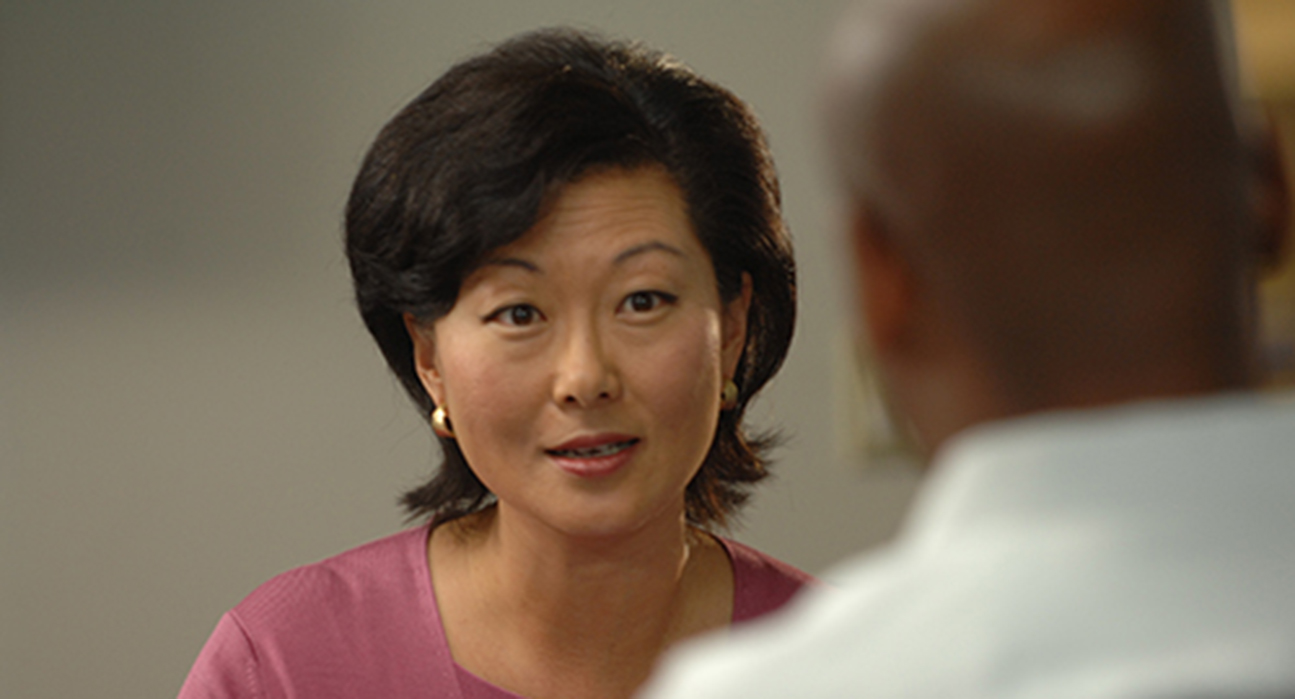 Whether you run a business, a non-profit organization, or a government agency, you know that managers—especially those on the front lines—occupy mission-critical roles. They are uniquely positioned to act as the all-important first point of contact with the employees you rely on to carry out operations, create products, and keep customers happy.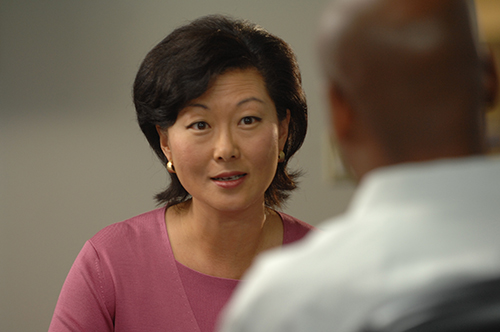 As that front-line link between employees and companies, managers can account for a whopping 70% of workforce engagement. In turn, engaged employees are those most likely to work at peak levels and contribute maximum productivity and value to their employers. Highly engaged workers also tend to remain with organizations longer, driving down turnover rates. Over time, their presence and emotional investment in the companies that employ them can strengthen company cultures, perpetuate organizational knowledge, ensure continuity in work practices, and improve innovation and efficiency.
Managers Need Top-Notch Skills
Whatever their organizational levels, a big part of managers' success in employee engagement hinges on their abilities to:
communicate effectively

build teams focused on shared goals

help employees grow and develop their own capabilities
Managers also play crucial roles in creating positive and respectful work environments where bullying, harassment, and other destructive behaviors aren't tolerated. To do all of those things well, they must possess and apply a wide range of abilities, particularly people-centric skills.
Along with those people skills (soft skills), managers require organizational, decision-making, problem-solving, technical, and other capabilities that enable them to structure and assign work effectively, meet operational objectives, and ensure that their teams have the resources needed to perform at peak levels and fulfill business goals.
If that brief description of the kinds of skills managers need to achieve real success seems daunting, it probably should. Some research has concluded that only one in 10 people have the kind of innate talent needed to excel in management. However, with the proper training and development, many managers can build the capabilities they need to become engaging, high-performing leaders.
Lack of Training Leads to Manager Failure
Problem is, choosing to provide effective development for managers is an important strategy that too many organizations ignore. So much so that a study by strategy execution company Root calls managers "corporate America's most neglected employee," and notes that only 28% of organizations prioritize investments in their managerial talent. Root found that learning professionals encountered significant problems in getting executive support for manager training, and reported that 62% of those involved in manager development expressed dissatisfaction with the results their efforts were producing.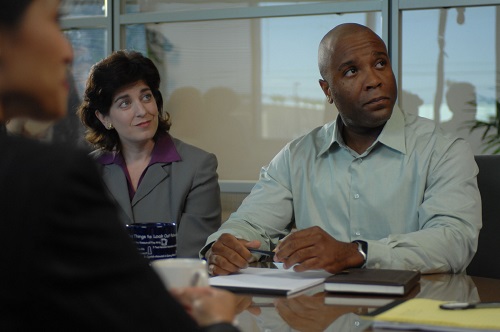 Other research revealed that as many as 60% of new managers fail to launch well and subsequently underperform within their first two years on the job. The short-term consequences can be dire for those managers, the individuals and teams they lead, and the organizations that employ them. Productivity and morale may nosedive quickly. Long-term fallout can be serious, too. Early failure by untrained new managers who remain on the job can leave those individuals with detrimental behavior patterns that negatively impact their leadership effectiveness over the remainder of their careers.
The scope of skills managers need, and failure of companies to provide adequate and timely preparation, paint a thought-provoking picture of the early leadership pipelines in today's organizations. Still, most companies have plenty of internal talent with solid foundational skills and the right mindsets to become good leaders—so long as they receive the training needed to optimize their capabilities.
When Managers Fail, Organizations Lose, Too
Failure to train managers for the critical positions they occupy puts both people and organizations at risk. When managers don't succeed, employees pay the price in lower morale and engagement, poor performance, misunderstood expectations, ineffective work teams, nonexistent development and advancement opportunities, and many other potential workplace problems.
For organizations, ineffective managers can cause workforce morale levels to drop (leading to higher turnover and the financial and talent costs associated with it), compromise productivity and performance of individuals and teams, contribute to unsafe work conditions and higher workplace accident rates, cause increased conflict in the work environment, adversely affect relationships with customers and suppliers, and ultimately erode bottom-line business results and organizational brand and reputation.
Leaders at Every Level Succeed when Development Is Focused, Efficient, and Effective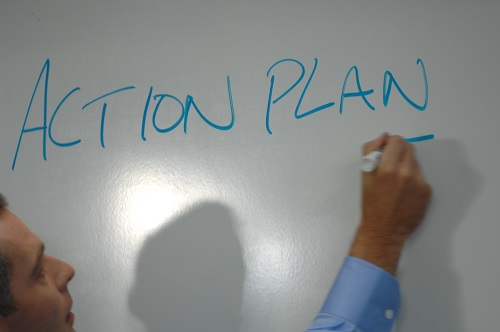 Clearly, failure to provide appropriate training and development for leaders at all levels—and especially those new to management—can have far-reaching ill effects on businesses and do significant harm to their workforces. Conversely, supporting managers and other leaders with thoughtful, structured development is a rewarding investment in organizational strength and workforce engagement and capability.
Making a commitment to deliver effective training begins with a clear understanding of the skills managers need to succeed. And because many leaders lack time to invest in lengthy training programs, access to learning opportunities that help build those crucial skills in short bursts can deliver a win/win development approach.
Choose Flexible Leadership Development with LEAD NOW!
Media Partners brings its proven record of providing award-winning, behavior-changing training to the challenge of developing managers and leaders with LEAD NOW!. This comprehensive and practical development system takes a personalized approach to developing the whole leader.
Short video training modules, enhanced by an array of supplementary learning materials and an individual Dimension Survey, provide critical insights into 21 leadership dimensions across four core quadrants: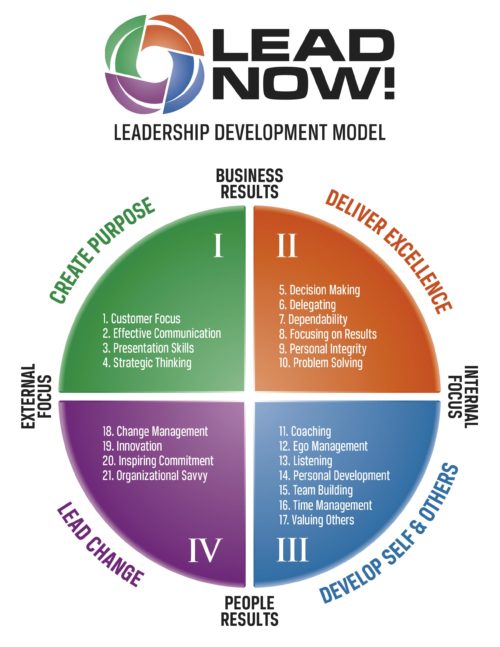 Create Purpose

Deliver Excellence

Develop Self and Others

Lead Change
For each Dimension chosen (based on the Dimension Survey results and/or personal preferences), the learner completes a worksheet that includes step-by-step instructions and suggestions for applying the leadership insights and tips provided in the corresponding Dimension Video. The LEAD NOW! development model offers a powerful solution for skill-building that ranges from first-time manager basics to advanced competencies for savvy C-level leaders.
LEAD NOW! is available in a complete Classroom Package or Self-Paced eLearning. All 21 dimensions can be covered at once (over several days), or small groups of dimensions can be selected and covered in response to the results of the Dimension Survey. You can purchase the program's validated LEAD NOW! Self Assessment separately if a more in-depth needs and strengths assessment is desired.
---
Don't let failure to develop your managers and leaders put your valuable talent or your bottom-line business results at risk. Here's your Free full preview of LEAD NOW!