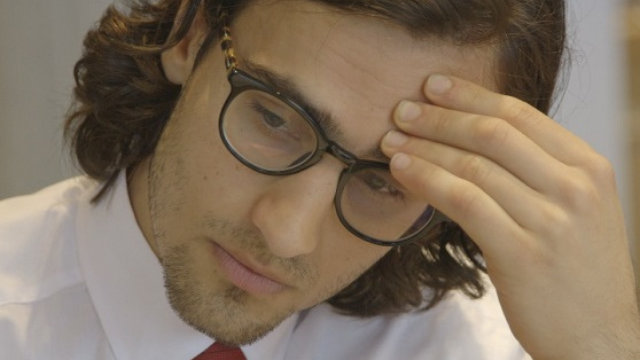 Employee Development Trends for 2022
HR leaders who responded to a recent poll by Gartner say that building critical skills and competencies in their workforces will be their top priority for 2022.
Fifty-nine percent of the 500 leaders representing major industries cited skill-building, making it the leading priority by 11 percentage points. Other top concerns for HR include:
• Managing change and organizational design
• Ensuring a pipeline for leadership
• Preparing for the future of work
• Producing better outcomes in Diversity, Equity & Inclusion
The research reported that four in 10 HR leaders admit that their organizations can't create skill-building solutions quickly enough to keep pace with evolving skill needs.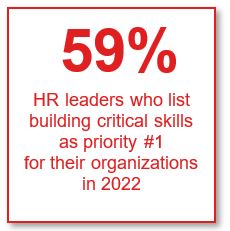 A key reason for that problem is the difficulty that many of those leaders encounter when it comes to identifying the skills their companies will need in the next few years. As a result, the study suggests that organizations can best avoid making wrong guesses by gathering data on the capabilities needed enterprise-wide and potential changes that affect those requirements.
The COVID-19 Pandemic Is Accelerating Change
Thanks to the disruption caused by COVID-19, businesses are seeing the rate of change accelerate significantly when it comes to scaling remote work, digitalization, and automation, says the World Economic Forum (WEF).
In turn, those and other changes affecting the business environment mean that some of the jobs employees perform today will go away and new ones will take their places within the space of only a few years.
---
By 2025, says WEF research, reskilling will be necessary for half of all organizational employees; and as many as 40% of the core skills current workers need now are likely to change. Many organizations are expected to deliver that training internally; and in 2020, alone, the study reported a "fivefold increase" in the number of employers providing their workforces with online learning opportunities.
---
Along with the need to take action to ensure that workers acquire the requisite capabilities to drive continued business performance, there is good news for business leaders: The WEF says that two-thirds of employers expect to recover their investments in reskilling within only a year's time.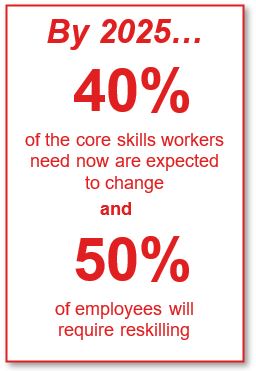 What Skills Will Workers Need in Coming Years?
Gartner's research highlighted the need for employers to look across their organizations to identify the changes taking place in roles and work processes as a means to help identify the capabilities their workforces will need in coming months and years.
To provide over-arching guidance as organizations undertake that internal fact-finding mission, the WEF study identified 10 skills predicted to be those most in demand for workers by 2025. Of note to HR and learning leaders is the proportion of that list that centers on soft versus technical skills: 80% versus 20%, respectively.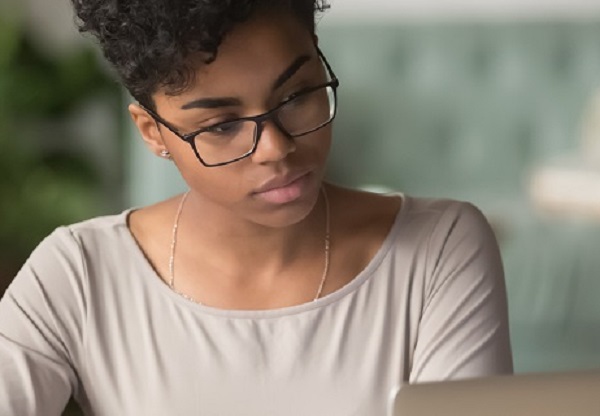 Analytical thinking and innovation

Active learning and learning strategies

Complex problem-solving

Critical thinking and analysis

Creativity, originality, and initiative

Leadership and social influence

Technology use, monitoring, and control

Technology design and programming

Resilience, stress tolerance, and flexibility

Reasoning, problem-solving, and ideation
Media Partners Delivers Expertise in Skill-Building and Online Learning
Recent research conducted by many organizations underscores the rapidly growing importance of workforce reskilling, and the need to accomplish it efficiently and at scale across the distributed environments that characterize hybrid work.
Media Partners has proven and award-winning expertise in designing learning programs that effectively build employee skills and result in positive behavior change. When you team with Media Partners, you can expect top-quality programming—deliverable across in-person, remote, and hybrid work settings—with effective support materials and expert facilitators to help your organization achieve its learning and reskilling objectives.