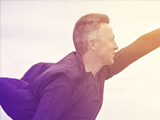 Training for managers and supervisors should include leadership skills.

So often in organizations, employees are promoted to supervisory or management roles without having any prior leadership training. And while these new leaders might be very competent at the work process part of their job, in all likelihood they (and their subordinates) would benefit greatly from improved leadership skills.
Contrary to popular belief, you don't have to be a "natural-born" leader to excel at leadership. Leadership skills can be taught, and with practice and perseverance, managers can develop into effective leaders that their team will respect and work hard for. Here are some leadership skills that can be taught to managers through leadership training programs. Make sure they are a part of your leadership management courses.
Problem Solving and Decision Making Skills
Problem solving and decision making are key skills for any manager. Managers who call a meeting or promote a specific point of view must own up to their position, and then be open for feedback.

They should also establish an organizational atmosphere that promotes alternative viewpoints and encourages people to express their concerns and reservations. In this way, many bad decisions are avoided, the maximum number of team members are included in the problem-solving process, and everyone feels as if they've been heard.
Communication Skills
One of the most important leadership skills for anyone in a supervisory or managerial role is communication. Effective leadership training will teach managers to communicate with emotional intelligence, to listen actively, and even to build special communication skills like storytelling to engage their audience.
As someone who leads others, it's critical to be good at influencing people. Managers may be asked to "get everyone on-board" with a change or new initiative, they may need to exert influence in a negotiation or meeting, or they may need to positively influence a team member to take on a new role or improve their performance.  
Mentoring and Coaching Skills
Managers can also benefit from leadership training by developing strong mentoring and coaching skills. Coaching is the most important factor in effectively developing employees, so it's crucial that managers learn the steps to coach their team, including how to start a coaching discussion, reach an agreement on the problem, develop an action plan for resolving the problem, and follow up. Mentors go a step further than coaches to give insights and instruction to someone else so that they can grow and be successful at what they're doing.
There are many leadership training videos perfect for management training, teaching strong organizational leadership skills. Groupthink is a powerful reenactment of events surrounding the launch of Space Shuttle Challenger, and helps leaders see how "groupthink" can lead to poor decisions. In After All You're the Supervisor, newly promoted managers learn to build a stronger culture and deliver amazing results. Emotional Intelligence uses real-world examples to teach leaders how emotions impact performance, relationships and success at work and in life. The Courage 2 Coach presents an easy-to-use model for getting the most out of each employee.