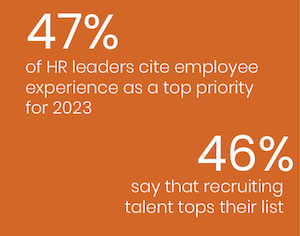 Concerns about talent are top 2023 priorities for human resources and learning and development professionals. In particular, continued competition for job applicants and heightened pressure to better engage and retain current employees—not to mention mandates for greater focus on progress in ESG (environmental, social, and governance) issues—make it imperative that employers raise the bar when it comes to delivering an excellent overall employee experience in the coming year.
Diversity and Inclusion is Key to Building a Better Employee Experience
Business and talent leaders know that a diverse and inclusive workplace in which every worker feels respected, valued, and a genuine sense of belonging is perhaps the most critical and fundamental building block of an outstanding employee experience. It's also foundational to the kind of positive organizational culture that engages employees and enhances an employer's appeal to top talent.
"Diverse and inclusive workplaces earn deeper trust and more commitment from employees," says Matt Bush, Culture Coaching Lead at Great Place to Work®, the well-known organization that certifies employers who deliver on the promise of great workplaces. He explains how the ideas of diversity, inclusion, and belonging fit in:
"Diversity is the representation of different people in an organization, inclusion is ensuring that everyone has an equal opportunity to contribute to and influence every part and level of a workplace, and belonging is ensuring that everyone feels safe and can bring their full, unique selves to work." 1
HR software and services firm ADP further ties the importance of D&I to employee experience by noting 2x higher levels of engagement among workers who are satisfied with their organization's commitment to diversity and inclusion. ADP goes on to report that those employees also work harder than their peers, collaborate more effectively, and are likely to remain with their employers longer.2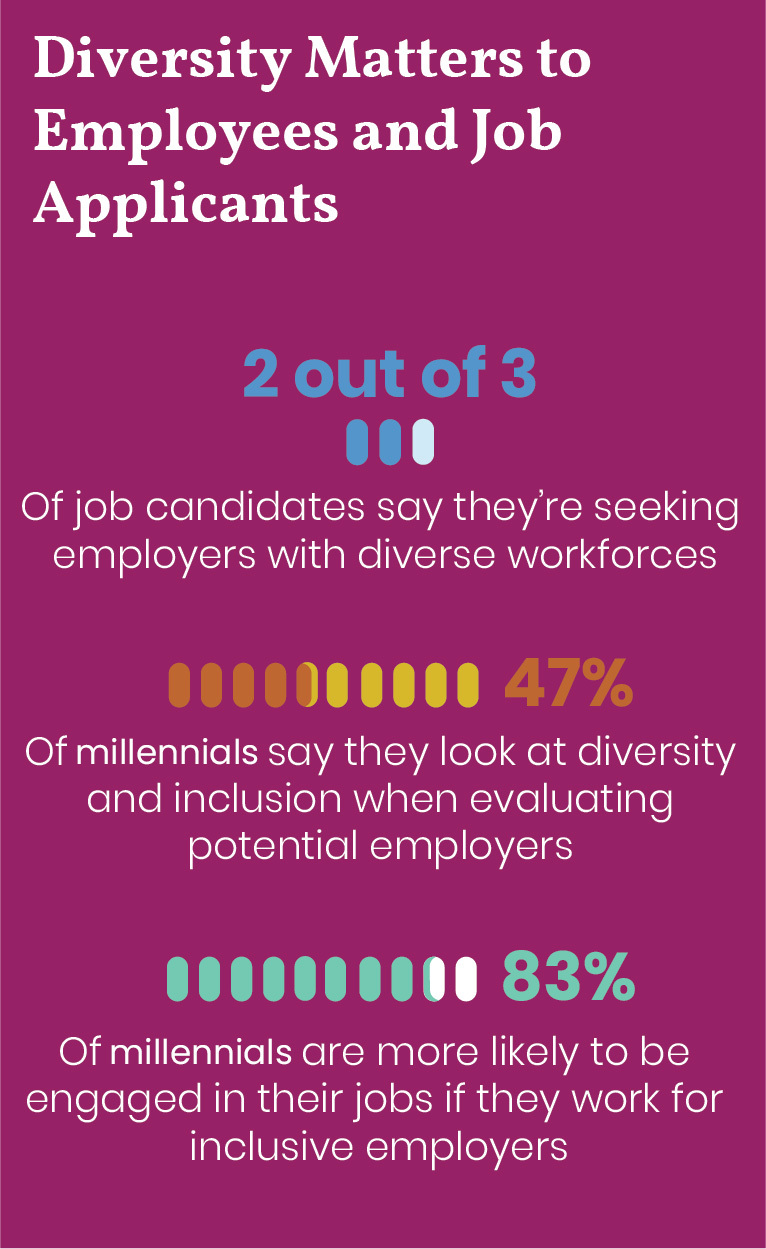 Look, Listen, and Leverage Learning to Drive Real Progress in 2023
A year ago, Media Partners challenged HR leaders to ensure that the diversity and inclusion (D&I) commitments their organizations made in 2020 didn't languish. Unfortunately, progress on fulfilling those promises has been slow.
See the Stats

Men continue to fare better than women in the workplace: men are 2x more likely to be hired; women are paid 83% of men's wages; 86 women are promoted for every 100 men who are; raises for women average 8% less than those awarded to men; and 42% of women report encountering gender discrimination at work.

One in four surveyed HR directors and 36% of surveyed diversity leaders report that Black, Asian, and other under-represented employee groups have no presence at all on their firms' organizational boards.

More than 45% of LGBTQ workers say they've experienced unfair treatment in the workplace because of their sexual orientation; 20% say they endured physical harassment. More than a third of LGBTQ employees say they've left a job because of discriminatory treatment by their employers.

Only about 4% of the 9 in 10 organizations claiming to prioritize diversity in the workplace include workers with disabilities in their D&I initiatives. Further, those employees earn up to 13% less than peers with no disabilities.
Certainly, some organizations have made strides in their D&I initiatives. Despite record inflation and lingering worries about a potential recession, the U.S. economy and labor markets have helped drive down unemployment rates across most all groups of workers.
Still, having a job and having a positive employee experience are two very different things for many employees. At this outset of a new year, the timing is perfect for HR and L&D to look back at 2022 and review their strategies and the actions taken to execute them. Applying the lessons learned can strengthen the work that lies ahead.
Source: mydisabilityjobs.com6
Most importantly, it is also time to take accountability when measures reveal the realities of organizational workplaces. That makes listening a critical must. Employee surveys, focus groups, stay interviews, exit interviews, and other listening methods capture current sentiment and provide snapshots of both positive and negative aspects of the cultures and work environments that exist within companies. Data and anecdotal evidence tell the story of diversity, inclusion, and belonging, along with the other elements that offer critical support for employee experiences.
About two-thirds of U.S. employers offer some type of diversity training for their workforces 3. The spend for that training? An estimated $8 billion annually. Yet, researchers find that training on diversity-related issues isn't always effective. In fact, up to three-quarters of organizations that provide training aren't achieving the results they'd hoped for 3, leaving as many as half of diverse workers viewing bias as an expected part of their work days.
Data makes it clear that diversity training is urgently needed, but also that just any kind of diversity training won't do. Neither will a tick-the-box approach that expects a one-and-done effort will result in lasting positive change.
Companies that make real (and sustained) progress in their D&I and cultural change initiatives purposefully choose top-quality training and consistent follow-up to help them build workplaces in which all employees are respected and valued. Media Partners' award-winning programs and supportive learning services and materials deliver training that builds awareness, provides real-world how-to strategies, and inspires the behavior changes that characterize true learning success.
Ultimately, without effective action, even the best resolutions and goals remain nothing more than good intentions. Can HR and L&D make 2023 the year of diversity and inclusion?
Professionals in both functions must step up to provide the urgently needed training and follow-up required to bring real success with D&I initiatives to life. That done, HR and L&D will deliver real value in helping their organizations realize the stronger talent attraction, engagement, and retention capabilities that support better business results in 2023—and the most memorable and appealing employee experiences.

Prioritize employee experience in your organization by implementing our 9-time award-winning DEI program, How Was Your Day? Getting Real about Bias, Diversity and Inclusion, and Harassment. For the first time, you can implement a DEI training program that is proven to drive positive change, getting you closer to reaching your DEI initiatives.
If your organization is serious about seeing results and improving key workplace DEI behaviors, contact us for a free full preview of this best-selling course.