Chicago Sexual Harassment Prevention Training 2022
CHANGES TO CHICAGO SEXUAL HARASSMENT PREVENTION LAW
In April 2022, Chicago revised its sexual harassment laws to make them stronger and to uphold zero tolerance of violence and harassment in the workplace. These changes require all Chicago employers to go beyond sexual harassment prevention training requirements mandated by the state of Illinois.
Sexual harassment training for Chicago employees must now run one hour, while training for Chicago managers must run 2 hours. Employees must also receive an hour of training on the topic of Bystander Intervention. This training must be completed no later than July 1, 2023 and be provided annually every year thereafter.
In addition to the new training requirements, other changes include:
a revised definition of Sexual Harassment

longer "time to report" period

increased company liability exposure
RECOMMENDED TRAINING
Media Partners' comprehensive Once & For All sexual harassment training features captivating video segments that engage learners. Wrap-around instruction and materials ensure compliance with sexual harassment prevention training requirements.
Manager and Employee versions can be purchased as interactive eLearning courses; however, classroom and blended learning options are available.
Chicago compliant eLearning courses are coming soon! Illinois state courses are already available.
---
The 7-time award winning program features:
• A 200% Compliance Protection Guarantee
• A modular approach that allows for short training sessions if desired
• Employee and Manager Versions
• Compelling stories and relatable examples
• Expert scripting and conversational host narrative to clarify legal points
• Concepts linked to lasting behavior change (such as upstander and culture of respect)
• Scenarios filmed in a variety of locations: restaurant, healthcare, warehouse, and office
---
ENGAGING SEXUAL HARASSMENT PREVENTION eLEARNING
With engaging and realistic video and interactive content, our comprehensive Once & For All eLearning courses for managers and employees can be delivered via our LMS or yours.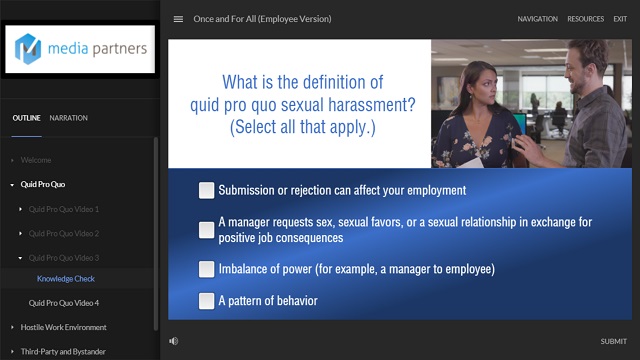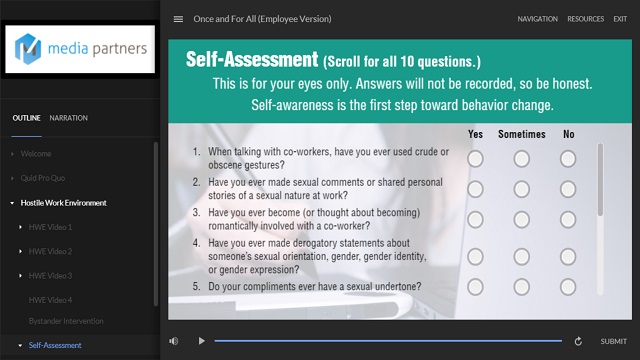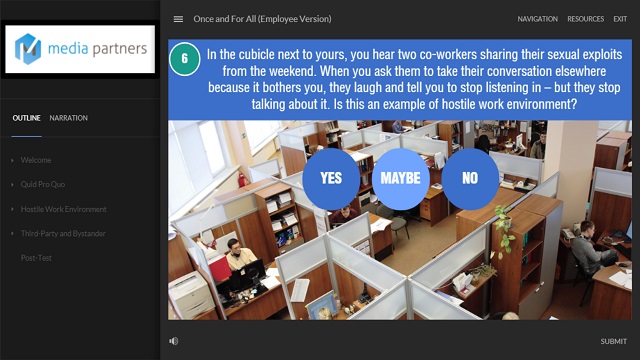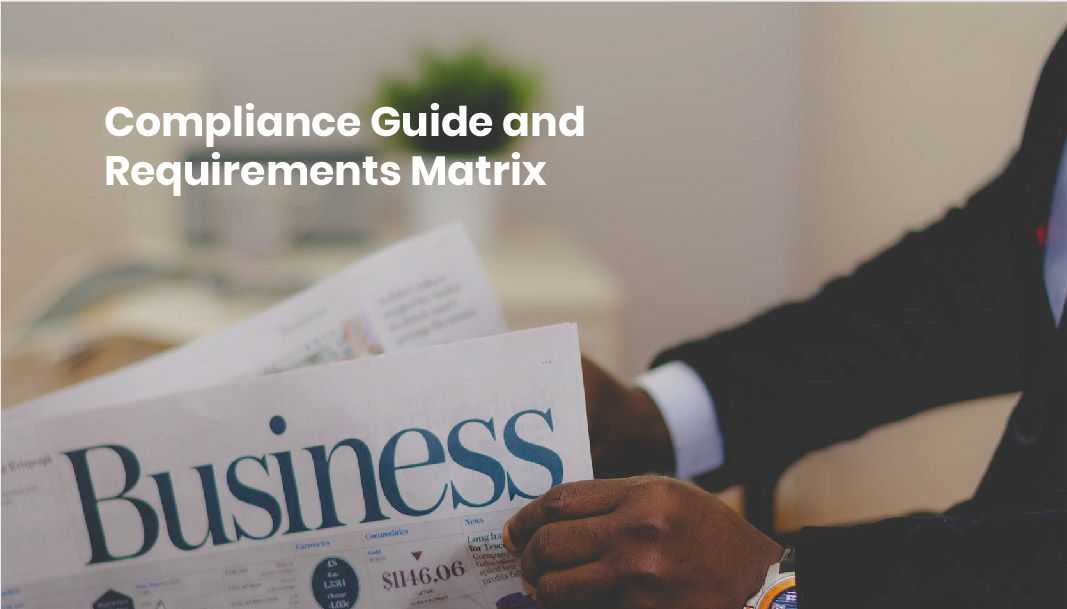 MULTI-STATE DEPLOYMENT
If your organization has employees in Illinois as well as in states with a different or no sexual harassment training mandate, we will work with you to ensure the most effective deployment possible. Many organizations in this situation train employees with state-version courses where needed, then use general courses for staff in states without mandates. State versions of Once & For All, include:
California, Connecticut, Delaware, Illinois, Maine, New York, Texas, Washington
INSTRUCTOR LED (ILT) SEXUAL HARASSMENT PREVENTION TRAINING
Instructor-Led Training (ILT) is conducted in a classroom setting. Trainers facilitate the class using the Once & For All Leader's Guide, videos, and other support materials. For details on the ILT option and how specific training requirements are met, please see our Interactive Sexual Harassment Prevention Training Compliance Guide.
CUSTOMIZATION
The program is extremely flexible and can be tailored to the unique needs of your organization. Customization Options include insertion of an executive message, inclusion of your policies, and more.