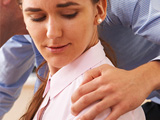 Sexual harassment can happen in any workplace - not just in the corporate world. Educational institutions and government agencies are not immune from the occurrence of sexual harassment and should utilize employee training videos to help workers learn to "check" their sexuality at the door when they come to work.
Sexual harassment training should include legal definitions of harassment and a hostile work environment so employees understand what constitutes harassing behavior. This arms them with the knowledge to recognize improper behavior - either in themselves or others - so they can revise their own actions or speak up against what they've witnessed or been a victim of.
In addition to the legalities of harassment, it's also beneficial to train employees on the human side of harassment - what are the rules when you're attracted to someone at work? We're all inundated by sexual messaging in media and marketing outside of work, so how do we turn off the sexual side of ourselves when we walk through the doors of our organization?
These and other questions about workplace harassment are explored in the employee training videos Let's Get Honest and In This Together. Both programs help government and education employees candidly and positively survey workplace issues such as flirting and dating, gossip, offensive language and jokes, and how to keep our private lives private.
Sexual harassment training can also be approached in a broader, more holistic manner by teaching employees to create respectful government agencies and educational institutions through common courtesy, embracing the value of individual differences and acting in ways that build people up, rather than tear them down. The employee training video The Respectful Workplace: It Starts With You covers these training topics, as well as how to avoid outright discrimination.
We tend to discriminate along a whole range of personal characteristics: weight, gender, race, language, sexual orientation, religion, disability, and others too numerous to mention. Discrimination undermines everyone's performance because it harms the team – after all, if you don't respect a co-worker for reasons other than performance, how can you respect and support their work? In some cases, discriminatory actions may even be illegal. Instead, if we can come to accept that in today's working world, people look and act differently, we can avoid things like discrimination and harassment. If we can just approach each other from a mindset of inclusion, we'll see that our differences actually make us stronger. This is what really creates a more respectful workplace.
---
For the latest in effective sexual harassment prevention training, be sure to preview Media Partners' new production, Once & For All: Stopping Sexual Harassment at Work. Available as interactive eLearning or for use in facilitator-led classroom training, this program features cinema-quality production, coverage of all types of sexual harassment, comprehensive support materials, and more. It complies with NY, CA and other state training mandates.
---

In addition to the employee training videos mentioned above, you may also be interested in checking out programs in other topic areas: The Abilene Paradox, Groupthink, and The Practical Coach (leadership/management training); The Guest and It's a Dog's World (customer service/patient satisfaction); Accountability That Works (personal accountability); What To Do When Conflict Happens (conflict management).