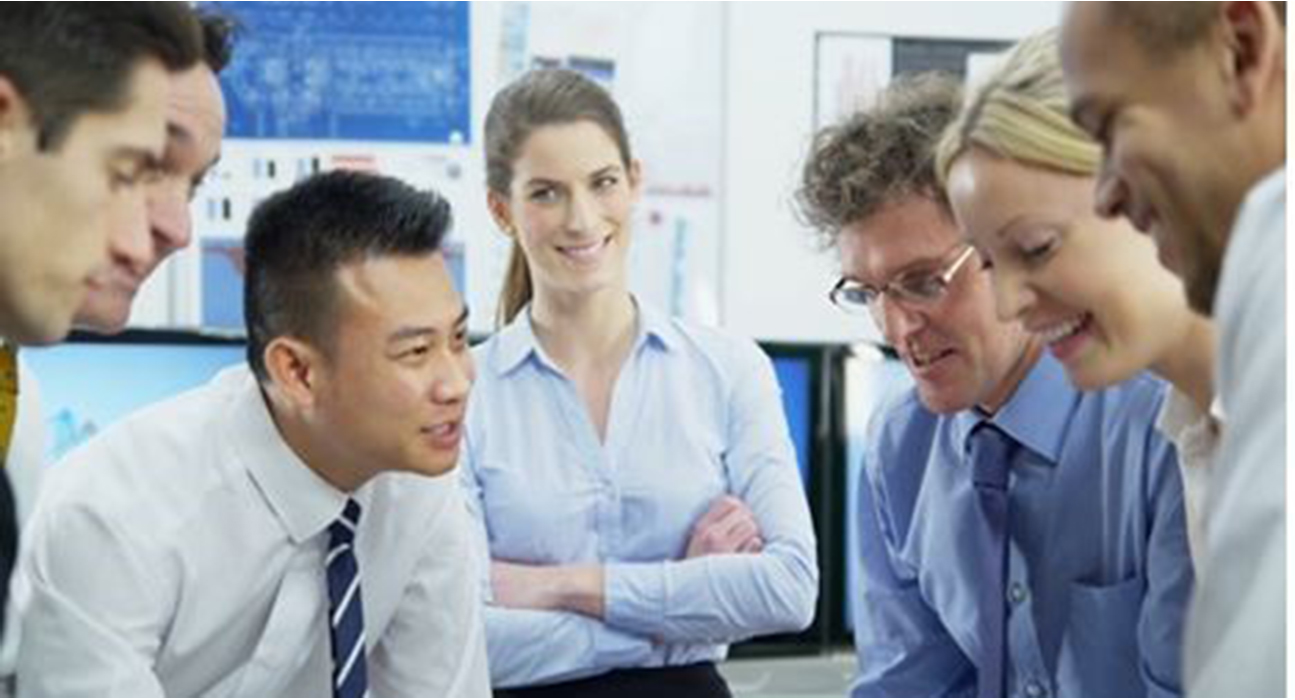 If you're in Human Resources, Learning and Development, or any other talent-focused business function, chances are good that the idea of employee experience has popped onto your radar lately. Optimizing the journey individuals take through your organization—from their first points of contact to the final words of exit interviews and beyond—is the very essence of the employee experience.

How do we make that time the best it can be for employees? That's the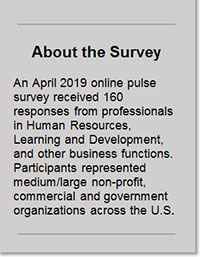 question that motivated Media Partners' most recent pulse survey. We asked the HR, L&D, and business pros we serve which of eight major organizational factors they feel are most important when it comes to positively affecting the employee experience.


"They're all important!" one survey respondent wrote in, and we couldn't have said it better. Still, survey participants' opinions revealed some excellent insights.

Top Responses Describe a Workplace Where People Want to Be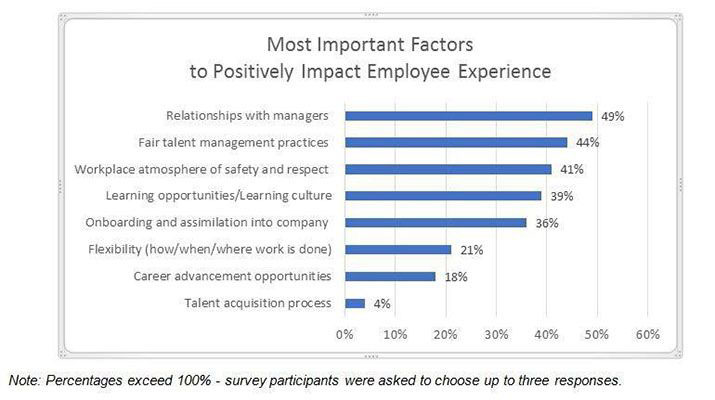 As the graph illustrates, a significant gap separated the top-five responses from the rest. What stands out about those leading choices? They are elements that create workplaces where people feel valued, safe, fairly treated, and able to become part of the organization quickly. In such environments, employees have good relationships with their managers, and cultures of learning offer opportunities for continuous growth.
Lower-end response options included flexible work, opportunities for advancement, and the talent acquisition process. While all eight elements in the survey can influence the employee experience, the top five work together powerfully:

Effective Managers Are a Must

How many times have you heard that people don't leave organizations, they leave managers? Gallup research attributes at least 70% of employee engagement to managers, and reports that half of Americans say they've left a job to flee a manager.
In an online article highlighting those Gallup findings, the leadership consultancy Lighthouse warns: "If you do not support and develop the managers in your organization, none of the things that lead to healthy engagement in your workforce are likely to happen. You have to provide the training, mentoring, and support, while also creating systems that reward the right actions by managers."
49% of the respondents to Media Partners' survey (the largest single group of participants) said that manager effectiveness, which is affirmed by good employee/manager relationships, is the most important lever in positively affecting employee experience. To build effectiveness, managers and other leaders need holistic development in the extensive people and work management skills today's workplaces demand. Top companies identify management talent early and make comprehensive leadership training, such as Media Partners' LEAD NOW!, the core of leadership development at all organizational levels.


Fair Talent Practices Lay the Groundwork

44% of survey participants noted the importance of fair talent management practices: performance systems, diversity and inclusion, total rewards (including benefits and recognition), compensation, and other critical people programs. These are the practices and processes that provide a framework to ensure that employees are treated equitably and rewarded for excellence throughout their organizational tenure. In essence, talent practices help lay the groundwork for positive employee experiences.
Seasoned business leaders know that well-designed initiatives are just the beginning. Often, if talent management practices are to achieve the goals for which they were created, companies must teach employees why the programs are important and how to participate in ways that optimize outcomes for everyone.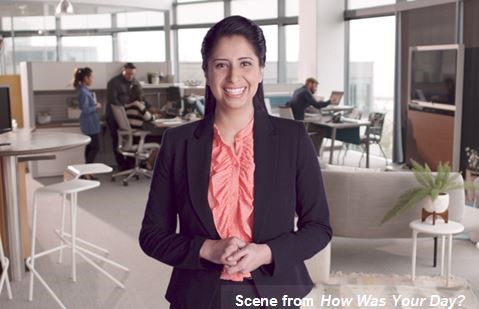 Media Partners' award-winning How Was Your Day? is a standout example of training that enhances organizational diversity and inclusion programs by educating employees about the benefits of accepting and working side-by-side with colleagues from other backgrounds and cultures. It explores unconscious bias, embracing inclusion, and overcoming bullying and harassment—ideas critical to achieving success in D&I initiatives. Other Media Partners training assets provide similar, much-needed support for talent programs ranging from performance management to recognition for workplace excellence.
And when it comes to onboarding employees, helping them feel part of their new organizations, enabling their performance and enhancing their career journeys, Media Partners' best-selling programs reinforce your investments in talent with fast, effective training in teamwork, customer-centric cultures, and much more.

Organizational Cultures Set the Tone for Great Experiences
Finally, speaking of cultures, the survey emphasized the role organizational culture plays in the employee experience. 41% of respondents said a workplace atmosphere of safety and respect (including prevention of harassment) is an important aspect of the experience, and 39% cited learning and development opportunities/learning culture.
To help establish and maintain organizational cultures that embody atmospheres of respect and security for employees, HR and L&D professionals are making two recent releases from Media Partners pillars of their efforts to address workplace safety and harassment.
Once & For All: Stopping Sexual Harassment at Work delivers engaging and empowering training in recognizing and putting an end to all forms of workplace sexual harassment and sexual misconduct.

The other compelling program, Getting Real about Workplace Violence, emphasizes a culture of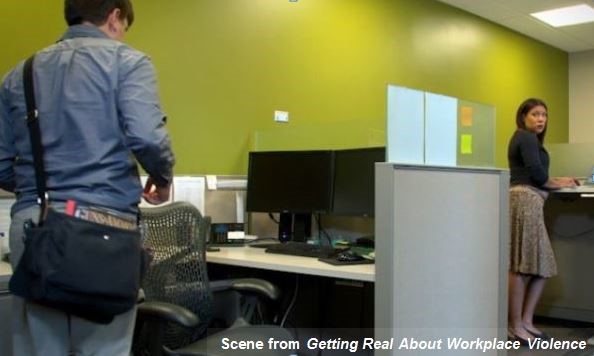 safety─ one in which employees understand what workplace violence (WPV) is, recognize concerning behaviors, and feel safe reporting their concerns. It educates and empowers staff in all areas of WPV awareness, prevention, and response (including what to do should an act of extreme violence occur). Together, these two programs are proving to be potent tools that help employees feel safe and encourage them to look out for one another. This helps companies build safe, respectful workplaces where employees can and want to build rewarding professional lives.

For establishing and expanding organizational learning cultures, Media Partners' vast library of behavior-changing learning assets has been the trusted, go-to resource for HR, L&D, and other talent professionals for 25 years.
---
In this post, we've introduced you to several programs that can be used in key employee experience influencer areas. Here is a recap, along with a few other recommended programs:
Our Top Titles for Mastering the Survey Top 5
Experience Influencers Training for Your Organization
1. Effective Managers LEAD NOW!; MANAGER MOMENTS: How to Build a High Performing Team
2. Talent Practices How Was Your Day? Getting Real about Bias, Inclusion, Harassment & Bullying
3. Safe Workplace Getting Real About Workplace Violence
(also Once & For All: Stopping Sexual Harassment at Work)
4. Learning Culture LEAD NOW!; The Practical Coach 2
5. Onboarding Depending on your organization's goals and values, consider:
- Give 'em the Pickle (customer-centric culture)
- How Was Your Day? (culture of respect)
- Can We Count on You? (accountability culture)

Media Partners enables you to experience the quality of our products before you buy with free, no-obligation previews. We welcome the opportunity to support your company's goals in providing peak experiences to every member of your workforce.
---

Keep a Finger on the Pulse of Organizational Performance

At Media Partners, the idea of being a strong, supportive partner for HR, L&D and business leaders is such a vital part of what we do that we made it part of our name. Thanks for sharing your opinions and experiences in our most recent survey on factors influencing the employee experience.
We hope you'll choose to partner with us in future pulse surveys, too. We have more inquiries planned, and if you have questions about topics and training choices affecting your L&D, HR or other talent functions, please let us know – we'd love to help you find answers. Email us.
---