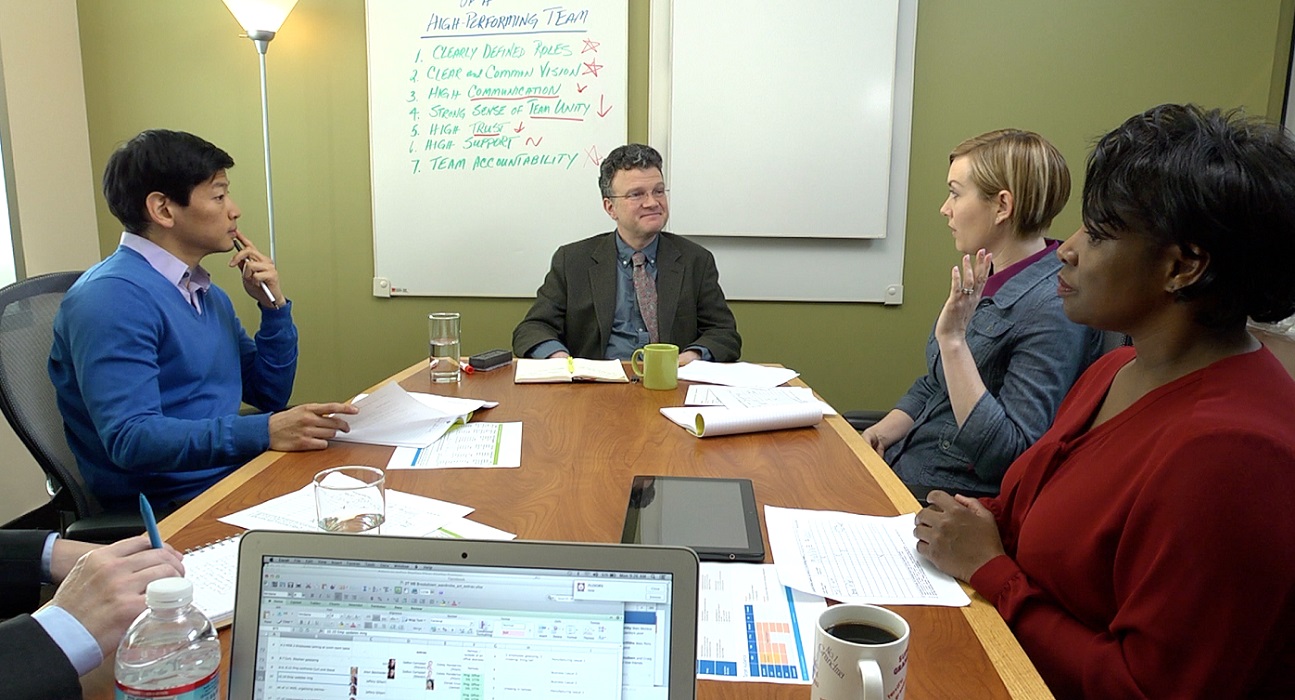 The perennial challenge of leadership development again has the attention of human resources and learning professionals as they plan their 2020 training agendas.
A January Media Partners survey of development professionals asked about top-of-mind training topics for the year ahead, and found attention is solidly focused on the skills leaders need along with competencies that drive organizational success.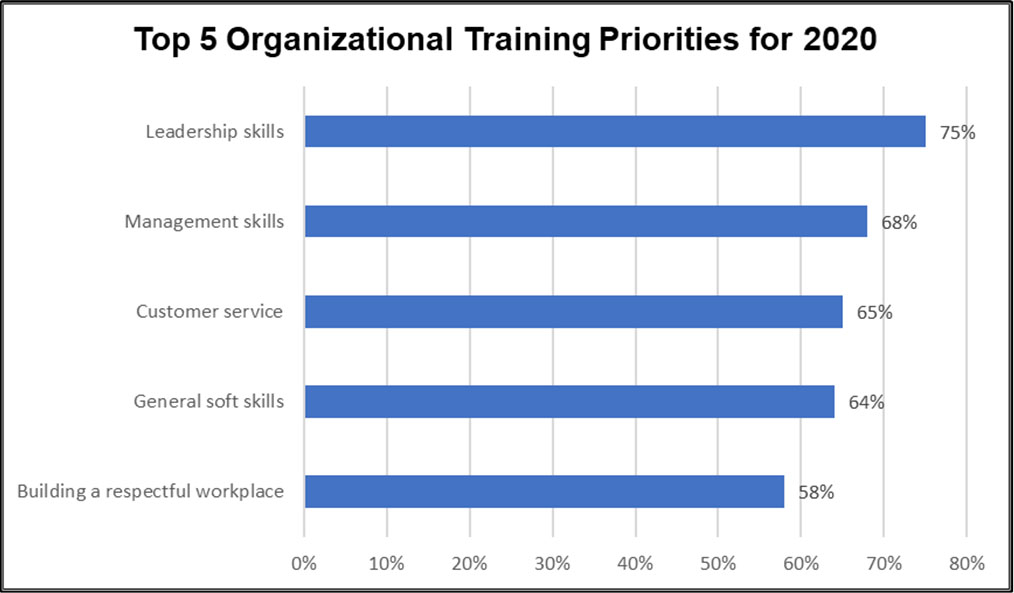 Percentages reflect high/very high extent responses and all-that-apply selection option (thus exceed 100%)

Three-quarters of polled HR and L&D professionals cited leadership skills, and more than two-thirds (68%) named management skills as the content they were most intent on offering this year.
Rounding out the top-five priorities were customer service, general soft skills (communication, adaptability, conflict resolution, etc.), and building a respectful workplace.
---
Topics Reflect Training Leaders' Focus

As the graph indicates, all five topics were affirmed by robust percentages of respondents—well over half. The results reinforce predictions that HR and training leaders will continue to ramp up their focus on honing leaders' capabilities and improving the skills that drive better business outcomes.
For example, advisory firm Gartner says that business growth is a key objective for organizations in 2020, adding that building "critical skills and competencies for the organization" and "strengthen[ing] the current and future leadership bench" will be top goals for HR.

Training Industry agrees, reporting that "learning professionals are now taking a more strategic and proactive role in planning and developing training that's aligned with business goals and, therefore, improves organizational performance." Further confirming Media Partners' findings, the publication says that soft skills remain in high demand, and that gaps in those skills "exist across all roles and nearly all functions, and organizations in all industries are responding by providing a variety of forms of training."

Leaders and Potential Leaders Are Companies' Primary Training Targets

Since survey participants' topic priorities for 2020 are leadership and management skills, it comes as no surprise to find that leaders and managers are priority audiences for training this year.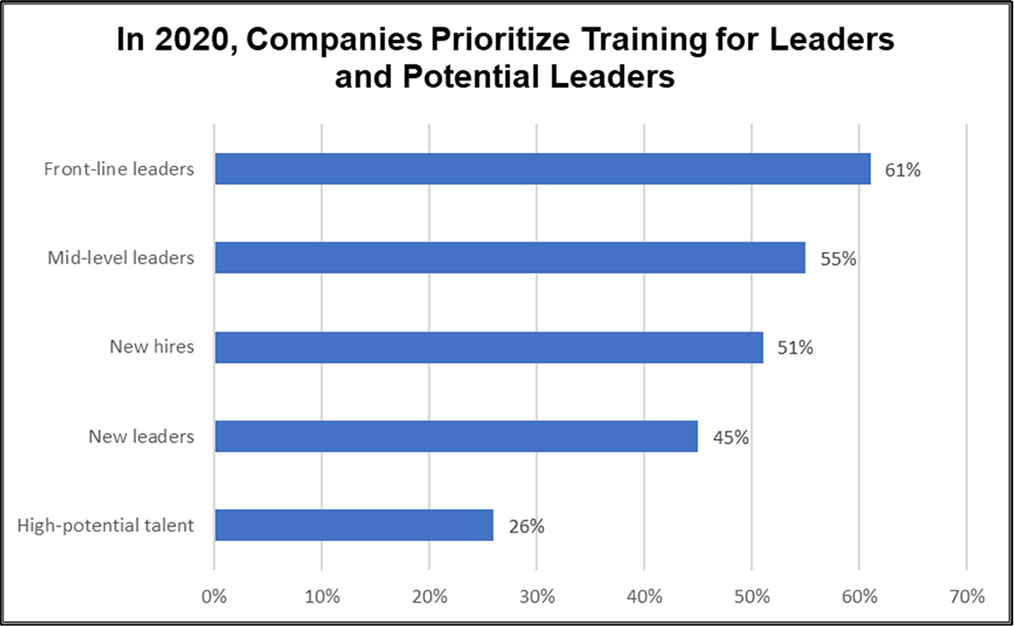 Percentages reflect high/very high extent responses; a choose-up-to-three response option applied
As the graph illustrates, organizations are placing particular emphasis on those who are key role models and direct influencers of talent—front-line and mid-level leaders. Ranking fourth and fifth among training audiences, respectively, are new leaders (those with fewer than six months in management roles) and high-potential talent, the population many companies watch for future-leadership potential.
New hires ranked third among survey respondents' priority groups for training in 2020, reinforcing the importance of thoughtfully onboarding employees and engaging them early with effective development. Further, helping new workers build strong foundational knowledge and skills is a core L&D strategy demonstrating the role of training in supporting business performance and in bolstering talent retention.
---
Familiar Challenges Still Hamper Training Effectiveness

To get a real-world view into organizational training in 2020, the Media Partners survey asked a final question: In the year ahead, what do you see as your organization's biggest challenge in achieving your training and development goals?
No HR or L&D professional responsible for training will be shocked to learn that the top answers to that question were money (cost, budget) and time for training.
"Lack of budget and time," one respondent put it simply.
Another lamented, "Finding time for employees to attend training programs. They want more training, but their managers worry about the time it takes them away from their work."

Training Pros Expect Challenges in 2020

Other comments signaled additional issues expected to significantly impact organizational training and development this year: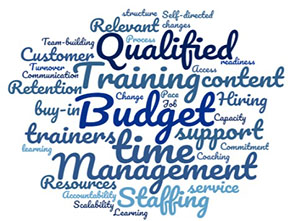 Lack of management support or buy-in for training
Limited resources—especially staffing—in departments responsible for training
Scalability of training and access for employees
Relevant content
Rapidly changing training needs
The Training Resources Organizations Need
The findings from Media Partners' 2020 Training Priorities Survey make it clear that training leaders have their work cut out for them this year. Their ability to make the business case for training and to advocate effectively for adequate training time and resources will be critical.
Respondents also confirmed that they need development content that's scalable, easily accessible, and efficient to consume—especially for time-starved managers and leaders.
Media Partners' comprehensive library of award-winning training programs offers cost-effective, scalable solutions that deliver engaging and accessible content relevant for every organizational job role and level, from individual contributors to top-of-the-house executives.


---
To address the topics and audiences survey participants identified as their 2020 priorities, browse our top solutions in the following areas: